DMK patriarch M Karunanidhi passes away in Chennai
Chennai, Aug 7 (IBNS): M Karunanidhi, a five-time chief minister of Tamil Nadu and patriarch of Dravida Munnetra Kazhagam (DMK) political party, died on Tuesday in a Chennai hospital. He was 94.
He passed away at 6-10 pm, Kauvery Hospital in Chennai where he was admitted, confirmed.
Considered a powerful political figure in southern India who strode the scene of Tamil politics for many decades after he joined politics from screenwriting in the film industry, M Karunanidhi was a leader of Dravidian self-respect movement.
Prime Minister Narendra Modi condoling the death said: "His understanding of policy and emphasis on social welfare stood out." Congress president Rahul Gandhi also mourned the passing away of Karunanidhi calling him a colossus of Tamil politics.
I have had the opportunity of interacting with Karunanidhi Ji on several occasions. His understanding of policy and emphasis on social welfare stood out. Firmly committed to democratic ideals, his strong opposition to the Emergency will always be remembered. pic.twitter.com/cbMiMPRy7l

— Narendra Modi (@narendramodi) August 7, 2018
He is survived by his sons, daughters, wives and grandchildren.
He was admitted to a hospital in Chennai since July 18.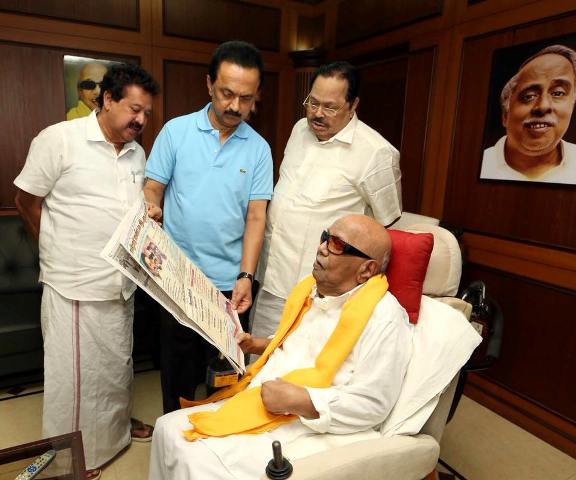 A large number of his supporters and party workers had assembled before the hospital and as the news broke they mourned the death of their beloved leader thumping chest and breaking into wails.
Security has been beefed up near the hospital as his supporters thronged there while the entire police force in the state is on the alert.
Southern movie icon Rajinikanth in a tweet said: "This is a black day I can not forget in my lifetime of my artist's day. Let his soul rest in peace."
என்னுடைய கலைஞர் மறைந்த இந்த நாள் என் வாழ்நாளில் நான் மறக்க முடியாத ஒரு கருப்பு நாள்.

அவருடைய ஆன்மா சாந்தி அடையட்டும்

— Rajinikanth (@rajinikanth) August 7, 2018
Loved by the Tamilian people, Kalaignar strode the stage of Tamil politics, like a colossus, for over 6 decades. In his passing, India has lost a great son. My condolences to his family as also to the millions of Indians who grieve for their beloved leader tonight.#Karunanidhi

— Rahul Gandhi (@RahulGandhi) August 7, 2018
During her political life in the last few decades, his formidable opposition was AIADMK's J Jayalalithaa who passed away in late 2016.
His political career was not free of controversies as several corruption charges were levelled against him and his party and family members, many of whom joined politics.
His son M K Stalin is his political successor.
M Karunanidhi: A screenwriter turned politician
Born in 1924, in Thirukkuvalai village in Nagapattinam district of Tamil Nadu, Karunanidhi was inclined to creative fields showing an avid interest in drama, poetry, and literature during his schooling.
In his career, Karunanidhi served as the chief minister of the state of Tamil Nadu for five separate terms between 1969 and 2011.
Before entering politics Karunanidhi worked in the Tamil film industry as a screenwriter. He has also made contributions to Tamil literature, having written stories, plays, novels, and a multiple-volume memoir.
Karunanidhi's political initiation began as early as at the age of 14, when he was moved by a speech of Alagiriswamii of the Justice Party, and participated in Anti-Hindi agitations.
He first became an MLA at the age of 33 when he entered the Tamil Nadu assembly by winning the Kulithalai seat in the 1957 election. He became the DMK treasurer in 1961 and deputy leader of opposition in the state assembly in the year 1962 and when the DMK came to power in 1967, he became the Minister for Public Works.
In 1969 he became the chief minister of Tamil Nadu for the first time.
He had opposed the Emergency imposed by late Indian Prime Minister Indira Gandhi in 1975 and had to face the wrath of Gandhi as his government was dismissed by her.
Personal Life
He was married thrice. His first wife Padmavathi is no more. His two other wives are Dayalu Ammal and Rajathiammal. He has four sons and two daughters from his marriages.
His first son is M K Muthu from his first wife.
His three sons from his second wife Dayalu are M K Alagiri, Thamizharasu and M K Stalin, who is his chosen political successor. His daughter from the second marriage is Selvi.
His daughter Kanimozhi, who is a power centre in DMK politics as well, is from his third marriage.