Protesting Calcutta Medical College students allege late-night assault by cops, outsiders
Kolkata, July 6 (IBNS): In a rerun of the Jadavpur University incident that triggered the Hok Kolorob movement in 2014, students of Calcutta Medical College and Hospital alleged that they were assaulted and manhandled late in the night by police during a sit-in-demonstration in front of the principal's office inside the campus at College Street area on Thursday.
According to reports, demanding accommodation in the newly built hostel, students of the second, third and fourth years of Kolkata's prestigious medical college had gheraoed the principal and other officials of the institute since evening.
Students said police suddenly cracked down on their peaceful agitation at around 11 pm by assaulting them. Police, however, denied the charge.
Students told IBNS that a huge police force suddenly reached the scene and while escorting the principal out of his office, they manhandled them.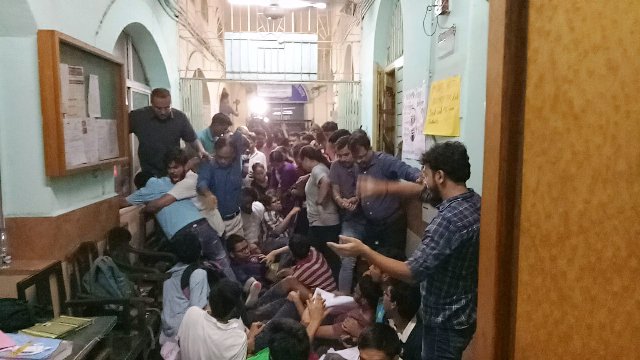 "At night, suddenly police and a large number of 'unknown' outsiders intervened in our peaceful protest and when they were taking our principal and other officials out of the office, cops assaulted and manhandled us. Besides knocking us down, they slapped us, kicked us and punched us," a student told IBNS.
"Few girl students, who had joined our demonstration, were also manhandled badly. At least 10 protesters were injured during the scuffle out of which two were hurt very seriously," he added.
Explaining the cause of their agitation, a student said; 'The authority recently quite suddenly issued a notification that only first year's students can stay in the newly built boys' hostel. Demanding accommodation in that hostel as our old hostel is in a very bad condition, hundreds of students of Calcutta Medical College's 2nd, 3rd and 4th years, have been demonstrating peacefully at the administrative building for nearly 80 long hours."
"A large number of students have come here to study medical science from different districts and due to lack of adequate rooms, they have been waiting with their belongings at the common room for last three days," the student said.
Denying all allegations of manhandling against them, a senior official of Kolkata Police told IBNS, "We went to the scene as the principal of Calcutta Medical College asked us to take him out of his office as he had been gheraoed by few of his students."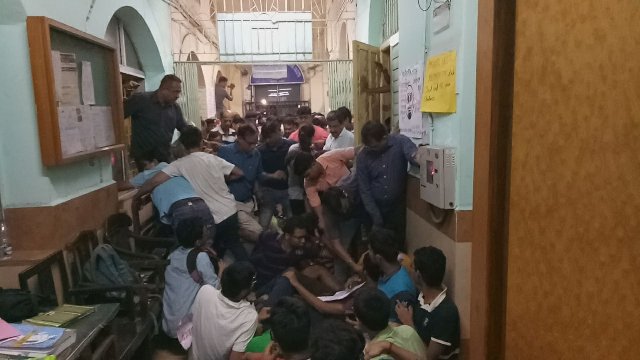 "We peacefully took the principal and other officials out of the administrative building. We neither manhandled the students nor attacked them. A light scuffle was reported between the cops and protesters during the evacuation," the official added.
Agitating students, however, said that their demonstration will continue.
Newly-appointed principal of Calcutta Medical College and Hospital, Uchchhal Bhadra, refused to comment on the matter.
(Reporting by Deepayan Sinha)