Cyclone Nisarga: All Updates
Just two weeks after Cyclone Amphan devastated West Bengal and Odisha, now Maharashtra and Gujarat are likely to be hit by Cyclone Nisarga on Wednesday afternoon amid the Covid-19 spread. Catch all LIVE Updates here
LIVE
Updates

Cyclone batters Maharashtra: See in Pics
03 Jun 2020, 01:10 pm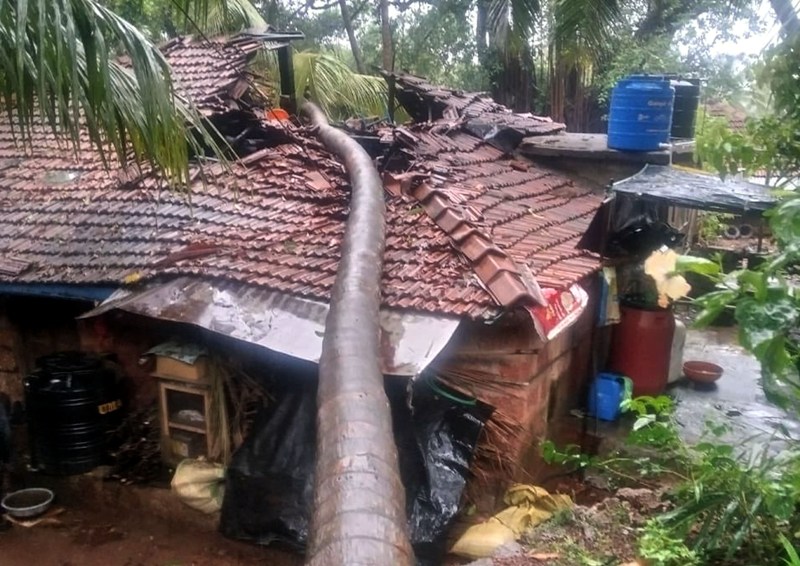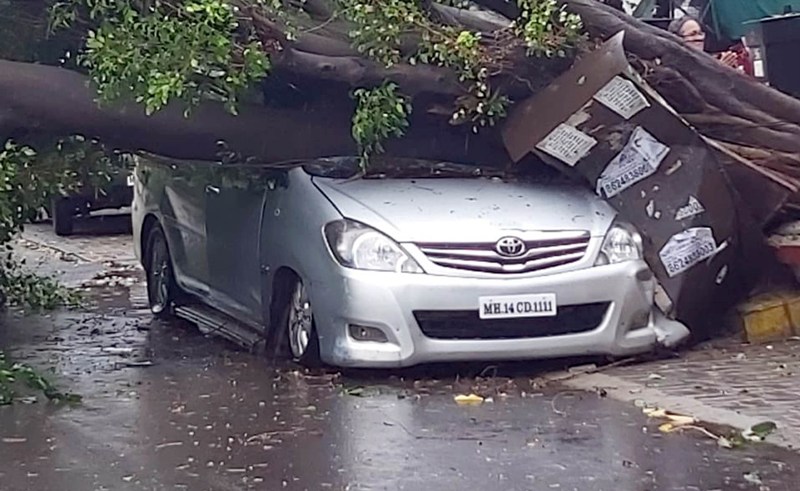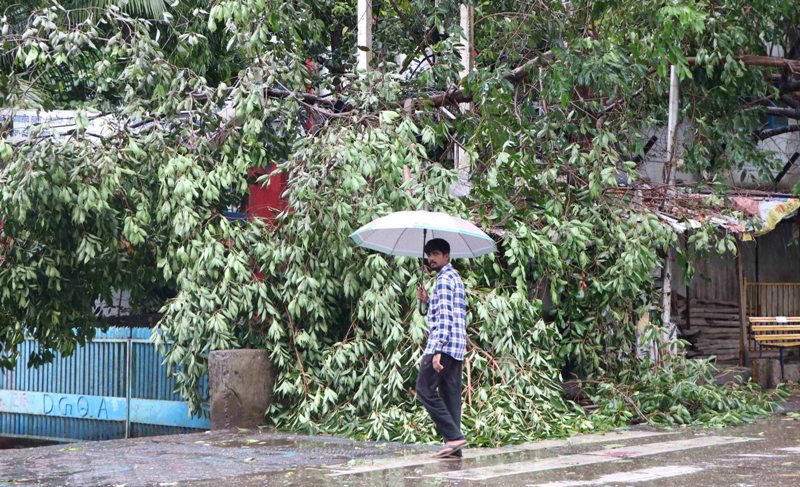 Cyclone leaves one dead in Maharashtra
03 Jun 2020, 01:08 pm
Nisarga crosses Maharashtra coast with wind speed of 100-110 kmph gusting to 120 kmph: IMD
03 Jun 2020, 12:06 pm
IMD gives latest update on Cyclone
03 Jun 2020, 11:03 am
NISARGA LAY CENTERED AT 1430 HRS OF THE 03RD JUNE 2020 OVER COASTAL MAHARASHTRA NEAR LAT. 18.5°N AND LONG. 73.2°E CLOSE TO EAST-SOUTHEAST OF ALIBAGH, 75 KM SOUTHEAST OF MUMBAI (COLABA) AND 65 KM WEST OF PUNE.
CURRENT INTENSITY (NEAR CENTER) 90-100 KMPH GUSTING TO 110 KMPH. pic.twitter.com/u4xvdPp4tf

— India Met. Dept. (@Indiametdept) June 3, 2020
Watch how cyclone is ravaging Maharashtra
03 Jun 2020, 10:47 am
IMD reveals latest position of the cyclone
03 Jun 2020, 10:46 am
NISARGA LAY CENTERED AT 1430 HRS OF THE 03RD JUNE 2020 OVER COASTAL MAHARASHTRA NEAR LAT. 18.5°N AND LONG. 73.2°E CLOSE TO EAST-SOUTHEAST OF ALIBAGH, 75 KM SOUTHEAST OF MUMBAI (COLABA) AND 65 KM WEST OF PUNE.
CURRENT INTENSITY (NEAR CENTER) 90-100 KMPH GUSTING TO 110 KMPH. pic.twitter.com/u4xvdPp4tf

— India Met. Dept. (@Indiametdept) June 3, 2020
Cyclone crossed coast, wind speed remains 100-110 kmph: IMD
03 Jun 2020, 09:51 am
SEVERE CYCLONIC STORM "NISARGA" CROSSED THE COAST BETWEEN 12:30 IST & 14:30 IST OF 03.06.2020 WITH A WIND SPEED OF 100-110 KMPH GUSTING TO 120 KMPH.

— India Met. Dept. (@Indiametdept) June 3, 2020
Landfall process to complete in next 1 hour: IMD
03 Jun 2020, 09:47 am
HOWEVER, THE REAR PART OF WALL CLOUD REGION IS STILL OVER THE SEA AND THE LANDFALL PROCESS WILL BE COMPLETED BY NEXT 1 HR. IT IS LIKELY TO MOVE NORTHEASTWARDS AND WEAKEN INTO A CYCLONIC STORM DURING NEXT 6 HOURS.

ALIBAGH REPORTED 93KMPH WINDSPEED AT 1330 HRS IST. pic.twitter.com/Y08S23QRJY

— India Met. Dept. (@Indiametdept) June 3, 2020
Video: Watch how the cyclone is currently devastating Maharashtra
03 Jun 2020, 09:46 am
Landfall process begins near Alibag in Maharashtra
03 Jun 2020, 08:54 am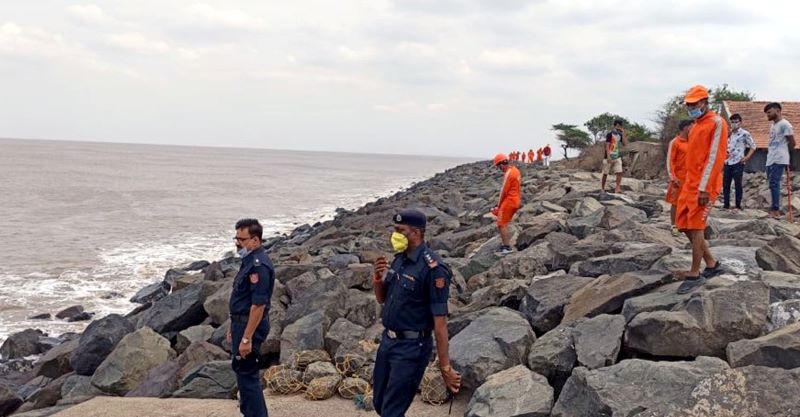 Landfall process of severe cyclonic storm Nisarga has started near Alibag in Raigad district in Maharashtra and is likely to be completed in next three hours, the Indian Meteorological Department (IMD) said on Wednesday.
According to the National Weather Forecasting Centre of the IMD, this cyclonic storm is close to 40 Km South of Alibag, 95 Km south of Mumbai and 325 Km south of Surat in Gujarat.
In the wake of it, the sea condition would be very rough to high over northeast Arabian Sea along and off south Gujarat coast till this evening and storm surge of about 1-2 meters height above astronomical tide which is very likely to inundate low lying areas of Mumbai, Thane and Raigad districts during the time of landfall.
Weather Forecast
03 Jun 2020, 08:50 am
Light to moderate rainfall at most places with heavy to very heavy falls at isolated places over south Konkan.
(Ratnagiri & Sindhudurg districts) and Goa and south Gujarat region (Valsad, Navsari, Dang, Daman, Dadra & Nagar Haveli and Surat districts) is also forecast during next 24 hours.
Light to moderate rainfall will lash most places with heavy falls at isolated places over west Madhya Pradesh and Vidarbha.
Maharashtra: 21,000 people in Palghar evacuated ahead of Cyclone Nisarga's landfall
03 Jun 2020, 08:47 am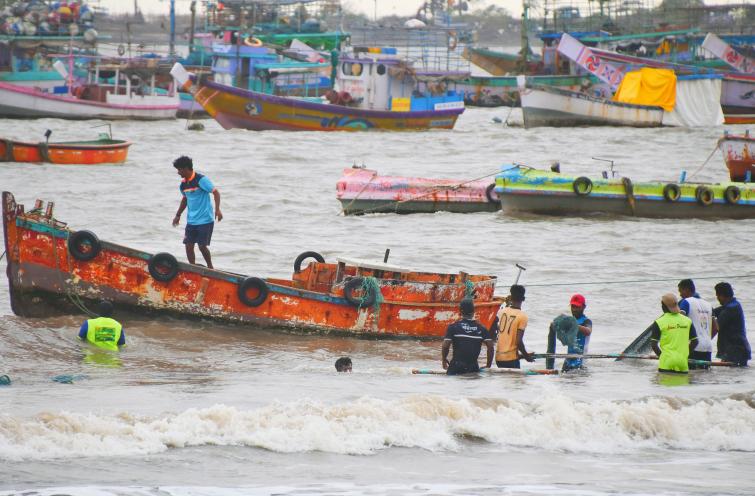 With the Cyclone Nisarga likely to hit the western coasts of Maharashtra anytime soon, the authorities have evacuated 21,000 villagers from nearly two dozen villages in four talukas of the district to safety.
In an official release issued on Tuesday, collector Dr Kailas Shinde said that as many as 21,080 villagers from total 22 villages in four talukas of Vasai, Palghar, Dahanu and Talasari have been evacuated and shifted to safer places from their kutcha houses.
Since the alert about the cyclone was sounded, the district administration was making every effort to meet the cyclone effectively and keep the damages and losses to the minimum, he said.