NewWriterOnTheBlock
Paulo Coelho's The Alchemist was my trigger to tell stories, says debut writer Priyasha Bagchi
It was her dexterous balancing of career plans and deep-rooted passion for story-telling which led 22-year old medical student Priyasha Bagchi to publish her debut novel 'The Road to Infinity: A Story of Two Parallel Lines'. In this interview with Uttara Gangopadhyay, the pre-final year medico, studying at Lady Hardinge Medical College, New Delhi, talks about her journey of transforming an idea into a book.
Congratulations on the publication of your debut novel 'The Road to Infinity: A Story of Two Parallel Lines'. You are a medical student. When did you decide to try creative writing?
Ever since I learned how to read, stories have been my refuge, my escape from reality. I could live as many lives as I wanted, go to faraway destinations, whether they existed on the map or in a fantasy world and above all, I could be any character I wanted to be. I believe that the world, essentially, is made of stories not atoms! I remember wanting to be a writer ever since I was 13 years old. At that time, I had read 'The Alchemist' by Paulo Coelho and I was enchanted by his master storytelling. It was simple yet profound. The story struck a chord with me and I realized that I wanted to tell stories too. The very thought of being able to share something of myself to the world, thrilled me.
How did you hit upon the story line?
I conceived the idea for my story when I was 17. One night, I had an epiphany…it was an image of a couple standing at the edge of the world, watching the Aurora Borealis. That image has become the cover of my book. I had the theme clear in my mind and woven the story around it. I was fascinated by the mathematical concept of parallel lines. When two lines cross once, their paths diverge, and they never meet again. Parallel lines never touch but they run together till infinity, never meeting yet staying together. There was a philosophical beauty about this mathematical concept which I extrapolated to the realm of romance.
So finally when did you start putting words to your thoughts?
I did not start writing the story until I got into my dream institute-Lady Hardinge Medical College. I was 19 when I began fleshing out the story I long intended to write.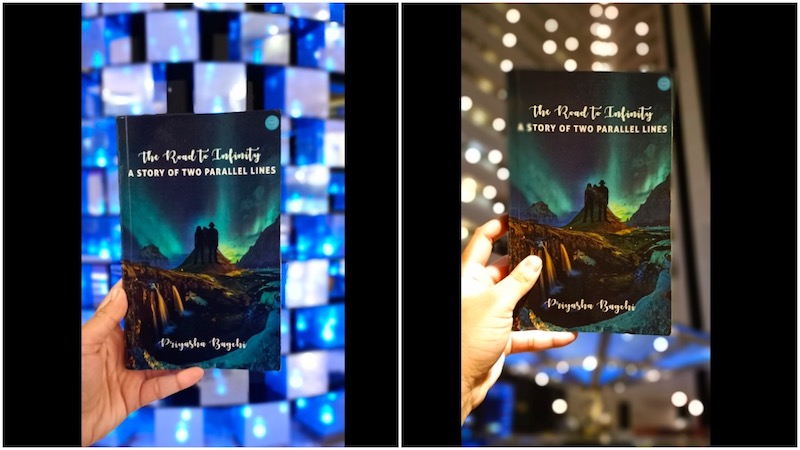 From wanting to write to actualwriting, did you have any misgivings?
Balancing academic commitments and a passion for literature was a tightrope walk.There were times when I felt I was doing a disservice to both. However, I stopped worrying much the day I realized that I need not choose between the two and can just have it all instead! There was no need to compromise on either. As Murakami said, "We create the story and at the same time it is the story which sets us in motion." Writing this story was a cathartic experience. It helped me untangle some knots in my mind as I could understand myself better when I put my thoughts into words. It was a painstaking task with multiple ups and downs along the way.
How long did it take you to finishthe novel and publish it?
The writing process took almost a year and a half. Then began the hunt for suitable publishers. This turned out to be much harder than expected since a lot of publishing houses were not accepting book proposals due to constraints imposed by the pandemic. Things were even harder for a first-time author. Finally, after much deliberation, we chose to go ahead with Blue Rose Publishers and the manuscript saw the light of the day.
How did you feel when you first saw the book in print?
It was surreal, to say the least, when the book finally released after three long years of struggle. In medical terms, it felt like a prolonged labour whose delivery gave us a sigh of relief!
What are your expectations from readers?
I hope readers find themselves in the 'wanderlust mode' as they take the journey with Myra and Ryan across Norway. A journey both physical and metaphysical, a dual journey - one to a faraway place and one within. I also hope that they enjoy reading the story as much as I did writing it.
Note: Priyasha Bagchi's 'The Road to Infinity: A Story of Two Parallel Lines' is available on Amazon UK, Amazon Canada, Kindle and Google Playbooks. The book can be procured from Amazon India.