Hariye Gele Janio
Starmark, in association with Catalyst, launch collection of romantic poems Hariye Gele Janio
Kolkata/IBNS: Kolkata's leading bookstore chain Starmark, in association with Catalyst launched Rajib Chakraborty's Hariye Gele Janio a set of five beautifully designed cards— a Valentine's Day special.
Each of these cards contains romantic poems penned by Rajib Chakraborty, along with his own illustrations.
On this occasion, a music video single was also released, featuring Ashu Chakraborty and produced by Asha Audio.
Along with Rajib Chakraborty, Ratna Mitra, Sanatan Dinda and Ashu Chakraborty were also present at the launch.
Hariye Gele Janio is a set of five beautifully designed cards that will be unveiled, all of which have poems penned by the renowned poet Rajib Chakraborty. A music video featuring Ashu Chakraborty will also be launched.
The music video single, also titled Hariye Gele Janio was officially released by Asha Audio. The song, written by Rajib Chakraborty, has been composed and sung by a well-known music composer Ashu Chakraborty, and marks his debut as a singer.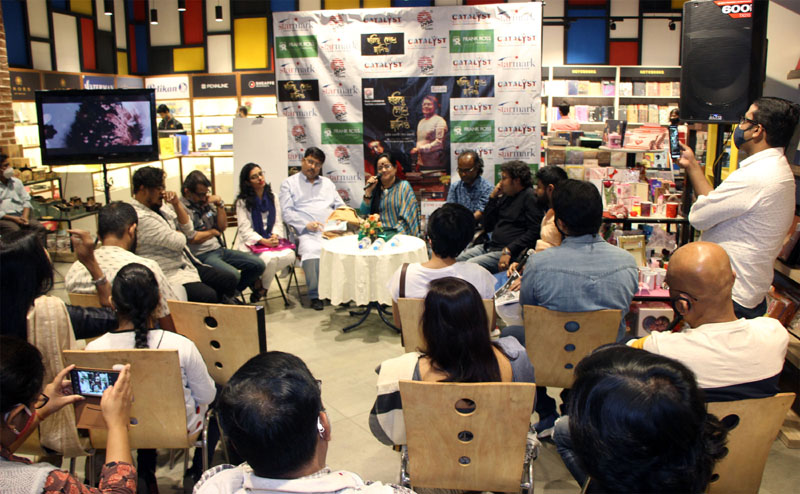 Rajib Chakraborty started writing poems from a very early age. His poems were first published in his school magazine when he was 13, and thereafter he never looked back. His poems have been published in leading literary periodicals, like Desh, and in several little magazines. He edited the little magazine Ekalavya and assisted Nabarun Bhattacharya in editing his magazine Bhashabandhan.
His collection of poems include… Chhoi Theke Chhai (2002), Triangulum (2015), Sorbitrate (2018), and Phoaray Eshechhi Dujon (2019) along with the paintings of the renowned dancer Madhuboni Chatterjee.
Ashu Chakraborty is a known face in Indian advertising, television and the Bengali film industry. A passionate guitarist, Ashu has a deep appreciation for eastern and western classical music. Ashu started experimenting, at a very young age, with a variety of musical instruments like the tabla, sarode, piano and acoustic guitars.