Journalist Shuma Raha's debut novel on couple swapping is out, to be adapted for erotic web thriller
New Delhi/IBNS: Sex, scandal and intrigue in New Delhi!!! Journalist turned fiction writer Shuma Raha's debut novel (her second literary work) packs it all as she walks the minefield of couple swapping in the national capital in her latest work of fiction. Well, the book is also all set to be adapted for an erotic web series in the offing.
Winner of the Juggernaut Short Story Prize (2017), Shuma Raha is the author of The Love Song of Maya K and Other Stories (2018).
The former journalist with The Telegraph and The Times of India and a columnist presently, Shuma Raha drew attention with her first book itself, a collection of short stories. This time, she came out with her debut novel with The Swap (Harper Collins).
"The Swap is a novel about a section of affluent, upper middle class Indian society and its attitudes to marriage, sex and morality," said the writer who is earning good reviews for churning out a novel that is "witty and racy".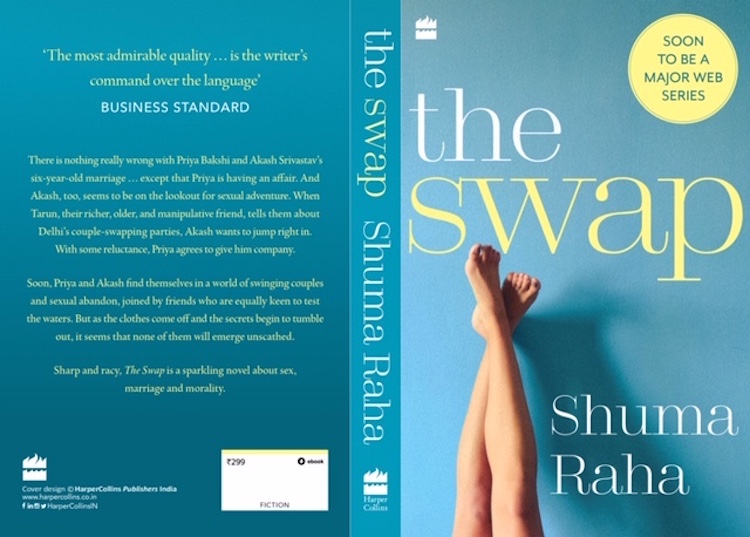 "Set in Delhi, The Swap is a story of love, sex, and marriage centered around the practice of couple swapping. It's great for a screen adaptation because it is plot-driven, has believable characters and situations, and tells a powerful story about urban India and its willingness to push the boundaries of sexual freedom," said the writer who when not writing fiction or getting worked up over current affairs, dabbles in literary translation.
Meanwhile, actor and producer Prabhleen Kaur, who has worked along with Rajkummar Rao in Hansal Mehta's National Award-winning film Shahid and has done popular shows like Aap Ki Antara on Zee TV and Mohe Rang De on Colors channel, has acquired the rights of 'The Swap'.
It will be adapted into a mega digital show which will go on the floors in early 2020 under her production banner Almighty Motion Picture.
When asked what interested her in The Swap, Prabhleen Kaur said, "When I got to know about the book from Anish Chandy the first thing attracted me was Shuma Raha as I had read few of her articles and found them very interesting and intelligent and the title of the book. After reading the book I was sure that this is a going to be a big erotic thriller. We are almost done with the writing and casting is in final stage."
Speaking about the book, Anish Chandy of Labyrinth Literary Agency said, "The Swap received adaptation interest from a number of producers. We eventually went with Almighty Motion Pictures because of the pedigree of Prabhleen Sandhu and the fact that it's been promoted by Sunil Bohra who has an exceptional track record with a difficult subject."
About The Swap:
There is nothing really wrong with Priya Bakshi and Akash Srivastav's six-year-old marriage … except that Priya is having an affair. And Akash, too, seems to be on the lookout for sexual adventure. When Tarun, their richer, older, and manipulative friend, tells them about Delhi's couple-swapping parties, Akash wants to jump right in. With some reluctance, Priya agrees to give him company.
Soon, Priya and Akash find themselves in a world of swinging couples and sexual abandon, joined by friends who are equally keen to test the waters. But as the clothes come off and the secrets begin to tumble out, it seems that none of them will emerge unscathed.
The book can be bought from Amazon on this link: https://www.amazon.in/Swap-Shuma-Raha/dp/935357398X/ref=sr_1_2?keywords=the+swap&qid=1575529310&sr=8-2