I am not just a Ray actor: Soumitra Chatterjee at release of book on his roles
Kolkata, Feb 18 (IBNS) Dadasaheb Phalke winning actor Soumitra Chatterjee said he is proud of his collaboration with Satyajit Ray but wouldn't want to limit himself to just being known as a Ray actor, at the launch of 'Beyond Apu- 20 Favourite Film Roles', a book on various movie characters he essayed.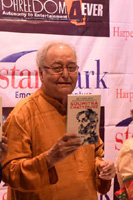 Penned by film critic Amitava Nag and released by the actor himself here at the Quest Mall outlet of popular lifestyle store Starmark, Chatterjee said at the launch that he would ideally want people to look at his other works apart from his already popular collaborations with Satyajit Ray.

Chatterjee said that though he was aware of the contents, the final draft was primarily the author's own.

He said, "He can criticise me, he has written this book."

On being asked why he chose to write on Soumitra, Nag said, "There is hardly anything substantial about his works written in English. For someone like him, who has done so many things at once, he deserves better."

Speaking about his career, Chatterjee said, "I have been working for the past fifty years. I am sure everybody will find something inspirational from my works and can relate it with their own life."

When the writer pointed out that there is no autobiography about Chatterjee, film critic Shoma A Chatterjee, who moderated the event, said, "An autobiography should not be there because he has so much more to contribute."

Nag also said that he wanted to present a different side of Chatterjee's body of work.

"A common notion about Soumitra Chatterjee is that he is a Ray actor, it is not true. People hardly talk about his other works."

When asked if he will consider including more characters and write another book, Nag said that he is more interested to write a book about Chatterjee's theatre roles.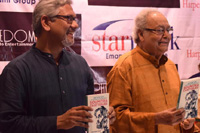 Having asserted that the final content was the writer's own, Soumitra Chatterjee said he wouldn't have opted for the eight Ray (Satyajit Ray) characters present in the book.

"I would have dropped out Ray," Chatterjee said.

He also spoke fondly about one of his lesser watched movie, Agradani and said that he is happy that the author decided to include the movie in his book.

Chatterjee also spoke about his preparation ahead of a new movie.

He said, "When in doubt about a certain character, I read the script many times, looking for a clue here and there."

Also present in the event was Consul General of France in Kolkata, Damien Syed.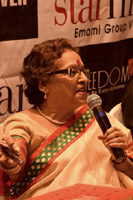 Speaking about Chatterjee, he said, "Soumitra Chatterjee is a very popular actor in France. We love his movies, especially Apur Sansar, Ghore Baire, Ashani Sanket."

Published by Harper Collins Publishers India, the book is priced at Rs 350.

(Reporting by Sandipan Kar and Images by Parantap Banerjee/Sandipan Kar/IBNS)