Actor Arjun Chakroborty pens book on non-poems
Kolkata, Jan 24 (IBNS) Foraying into another creative discipline, seasoned Bengali actor Arjun Chakraborty now comes up with his first publications of poems, intriguingly called "Arjuner Awkobita"(Non-poems of Arjun).
"There is a certain resonance even behind non-poems, or to put it another way in non-verse poems. I have consciously chosen to tread a different path than conventional poems. I haven't used the typical poetic idioms or languages, but having been an active part of a rich visual media like films, imagery plays an important role," Arun tells IBNS after the book launch at Starmark.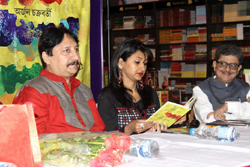 Arjun, who read out a poem, recalled how the sight of a pavement-dweller, an old woman, asked to move away by the cops in Tollygunje area, on way to shooting in a forlorn winter night, worked as the trigger for this poem which sought to trace her roots and merged with the tale of brutalized women in this world, across frontiers.
"My driver did not want me to get down but the sight of police trying to evict her remained with me and the lines poured out. This may be partly termed as imaginary inspired by one real incident. But don't these things keep happening?", he said.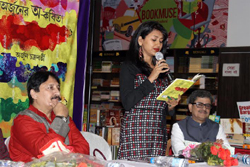 Popular writer Sirshendu Mukhopadhyay, who professes his love for poetry, says he will never be able to pen down verses and that perhaps enables him to judge technicalities of a poem from a dispassionate angle.
"I had once a friendly argument with a fellow poet who would never admit that a just scribbled poem of his was short of a meter as pointed by me. However, after reading the whole poem over and over again he agreed and then wondered how could you (Sirshendu) make out," Sirshendu recalls in the chat on how poems inhabit in the poets' psyche.
."I know Arjun is a good actor, and that he is a gifted singer. Now he is showing signs of maturing into a poet," Sirshendu says.
To a question by IBNS, the 'Ghunpoka' writer says, "Since film is a different medium of art, once any literary work, including any of mine, is taken up for films I know the narrative idiom has to be different.
"Because cinema has its own length, language and treatment."
Celebrated painter Jogen Choudhury and actress Rachna Banerjee were present.