I wanted to give confidence to women: Neeva Debnath
Back to the City of Joy (Kolkata) to exhibit her voguish 'Neo-Colonial' collection, British Indian fashion designer Neeva Debnath reflects on her childhood nostalgia and dual heritage of being extremely Bong at heart but also a spirited Brit in true sense. With an upbringing and exposure to plush fashion houses such as French Connection, Monsoon, C&A, Nicole Farhi and Notice Me in UK, she has a fair share of experience in the field. Her love for fabrics and fashion reflects in the way she talks about them. In a tête-à -tête with IBNS Correspondent Toorssa Banerjee, she speaks about her brand Neeva-D London, her Bong connection, her love for all-things-lacey and her favourite fashion stalwarts from all over the globe. Excerpts:
How did you get so involved in fashion? When did it all start for you?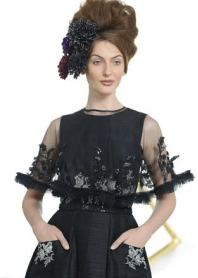 I started actually really early and I have to tell you this, I hated my mother buying me outfits. I never used to like them but I didn't have the hearts to tell her because she used to go out and make so much of an effort. I am the youngest of the four sisters. I know how hard it would have been to, you know, to maintain us. I used to change the straps (of those dresses) that I hated. I used to change the strap with flowers. I remember I used to put ribbons and things like that to change it and make it little different. I think that was the start.

So, it can be presumed you derived your inspiration from your lineage?

Umm.. my mother had a typical box full of old garments and stuff. Accidentally, when I was about 10-12, I went into the attic and found this huge box, a trunk almost. I found all these fabrics and I asked "What are these for?" and in between these fabrics, I found a lot of old fabrics passed on to my mother by my grandmother. I found beautiful lace blouses and I never understood why would she put them away. So, I remember taking them down and I said "You can stitch them up and do this and that". My grandmother was a very elegant lady and my mother herself is very fashion-oriented and she herself is from a textile background. Her family, they in their day, used to do sarees and the whole saree-weaving thing. They were quite big. I think that was also something that triggered it.

Where did that drive take you afterwards? How did you approach your passion?

When I was in A-level, you know, like 17 or 18 and we had to decide what we had to do, I just knew. I wanted to dress people up. I took it up professionally and I practically started stitching at home from the age of 12 using my mother's sewing machine changing her blouses because she always wore Indian outfits, sarees. So I went into an art and design school where I did a foundation course because I had a very academic background till then so I didn't do arts in school. From that foundation course, I went into fashion designing.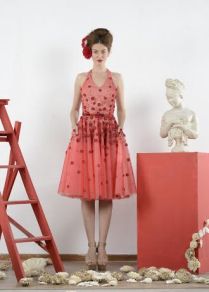 Somewhere down the line I thought I might have to do something of my own and then that took off. And I enjoy and I've always enjoyed my work. It wasn't a profession for me, it was almost like a hobby. I do enjoy fashion. I love telling people the colours they should wear. I have three sisters so I always could, sort of, practise on them and slowly their friends came into the picture. Then as I started working in French Connection, people started to have more confidence in me. I knew I loved fashion for a long time.

You have your own brand 'Neeva-D' which you are operating in London, are you inspired to apply desi-ness to your designs?

I started in UK two years back and as I developed my interest, it was always towards India. It was only because I found there were great artists, artisans, craftsmanship and I wanted to actually somehow bring those out through my designs as well and my flair of the western world was a big move. It's because we don't use much embroidery there. It's all about how to manipulate the fabric into a wonderful silhouette. I still believe in that and I think that's why I do minimalistic designs.

Fabric, in itself is a beautiful thing, it's how you implement and take that fabric to a different level, which is the 3-D level. So, my interest in India is to use the western influence and put the craftsmanship of the embroidery in a very minimalistic way on to the western way, in way both complimenting each other. I guess this is where my dual heritage is. The interest of the fabrication is there for having the right silhouette, for having the right cut which I bring from the western world and implementing it on the minimalistic work from here and combining them to give that unique blend. So I think that's the whole idea. As I was growing there (UK) I thought it would be best to come here and develop a studio here.

This time you are in the city to exhibit your 'Neo-colonial' Collection. Tell us something about it.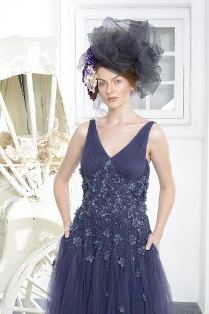 The theme actually came up very quickly, I think as I landed in Kolkata and as I have mentioned my dual heritage helped me a lot. Kolkata was where the British Raj was. This was the capital of India once upon a time, then you have the East India Company and the trade that used to happen through the coastal areas. So, all of the history hit me and I was looking through lot of books.

At the same time I was reading a book by Jane Austen and watching the movies, like three hundred times, by then. It still inspires me. So the romance was there and as I was going through the visuals, I saw a lot of feminine costumes, class and a lot of heritage involved with that time. Lace happened due to my background of doing a lot of lace designs. I have a lingerie background and that's how the idea of working with lace developed. I wanted to use the British Raj era and I wanted to revive it, so the 'Neo-colonial' theme in a very modern way but giving something very unique. It is made for the Indian market but very subtle hint of uniqueness. So the lace, net and the silhouettes of that era speaks for itself in this collection. The collection is extremely classy, bold, feminine and unique.

The lace and the net which I have used here is imported from UK, France and Italy and is very delicate and feminine. It's almost as if you are wearing nothing and the dress looks as if it's kind of growing on you. The designs are very intricately done as the appliqué work of the lace and the embroidery is almost seamless. The floral embellishments are hand picked and are very set really carefully. Also, 90% of my dresses have pockets (laughs). It's all about practicality. When you are dressed nicely, you also don't want to clutter you hand bag. Just put the essentials in the pocket and walk out. So the dresses are very practically made without taking away from its femininity.

To name a few Indian designers who have left a mark upon your mind?

Okay, I'll be biased to say this but Sabyasachi is a student of mine and I have seen him grow up. I have seen him work hard. I once spoke to his mother and I said that the way he works, I just feel he's gonna be someone. That was like 10 years back. Why I like him is not because he's a student of mine, it's because he has taken what is already available. We tend to search far and wide for many things but you need to really knock on your own door to find it. He has used very natural colours that you see people wear generally. You see how he uses his embroidery, very general.

I love Rohit Bal's men's wear. I love Ritu Kumar's bold prints. You have got great designers who have been here for decades like Tarun Tahiliani and JJ Valaya. Then there are new designers, even in Kolkata there are new designers, sometimes not heard of. You have got Sayantan Sarkar, who's coming up slowly. They are all different designers you can't compare each because every designer has their own unique niche or identity.

And from the western world?

My favourite designer in Europe was Vivian Westwood. She worked a lot on the Victorian era, she did a lot of corsets and she also brought the punk movement. Then there is Alexander Mcqueen who is not there any more but i was so much inspired by him. When he passed away, I rang everybody up and said "Do you not know? Do you not know?"(chuckles) and I couldn't believe it because he was one of the legendary designers really because he came up with really quirky things and he was really unique. I like Elie Saab and also, Roberto Cavalli.

What are your guiding thoughts as a fashion designer?

I was always very inspired by people who wanted to make a change, in a very nice way by not affecting anybody politically or socially as such but to bring in a class of their own. I spend a good 2-3 weeks with my clients by getting to know them on personal level before I start with the designs, for which they don't have to pay, but that is the way I have always worked. I wanted to create individuality, give confidence to women who wanted to bring themselves out. Especially today, more women are working, more women are independent, more women are standing up in the society. I think I'm a part of that society where I'm bringing my hobby in to my profession and I want to people to have that.