WFUNA Foundation takes off in India, reaches out to Nepal quake victims
Kolkata, June 12 (IBNS) When in a humanitarian gesture, a talented young girl from an upscale city school from Kolkata sold off her paintings to raise funds to reach out to Nepal earthquake victims, the support in her initiative came from the global non-profit organization that is WFUNA Foundation.
WFUNA Foundation, a wing of the World Federation of United Nations Associations (WFUNA), which was formally launched in India on March 3, 2015 by the External Affairs Minister Sushma Swaraj, has started a slew of events and activities in India to support the various initiatives of WFUNA.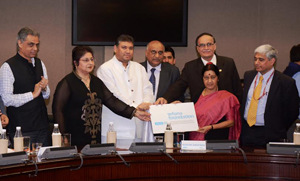 WFUNA Foundation, along with Hyatt Regency Kolkata, hosted a painting exhibition by Rucheka Jain a Class X student of La Martiniere for Girls' School, Kolkata.
The exhibition raised over Rs 4 lakhs from the sales of the paintings. The young artist, Rucheka, contributed the entire amount for the Nepal earthquake relief fund. A cheque was formally handed over to the Consul General of Nepal, Mr Chandra Kumar Ghimire, by Rucheka Jain. A certificate of appreciation was handed over to her by Mr Ghimire. The event was attended by Chief Guest Bickram Ghosh and Jaya Seal Ghosh in the presence of school teachers, colleagues and other guests.
Talking about her inspiration, the girl with a golden heart, Rucheka said, "I used to prepare for my Class X exams by the side of a window in my home. One day I saw a bird toiling very hard in the summer sun to build a nest. I realised that a colossal effort that goes into making of a nest or home. And when the earthquake struck Nepal and the tragedy unfolded, I was numbed by the scenes of homeless men, women and children."
"I thought of contributing to the victims of Nepal in my own small way. But I was very surprised by the fruits of my effort for which I must thank WFUNA Foundation and others," Rucheka said.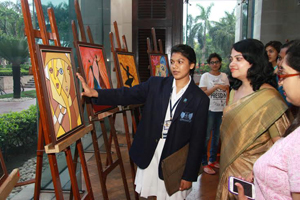 The budding artist has been painting as a hobby despite her demanding academic schedule. But after the Nepal earthquake as the scale of human tragedy unfolded, Rucheka decided to put finishing touches and gear up for an sale-cum-exhibition to contribute her earnings for the cause of the quake victims. However, she had no idea about the funds that would be raised and the support that she would get from WFUNA Foundation.
"The exhibition was for the cause of humanity and also showcased the works of a young talent. WFUNA Foundation was proud to host Rucheka's exhibition. WFUNA Foundation has started doing events in India and had organized the WFUNA Youth Seminar at a school in Jaipur on March 29, 2015. We hope to do more such social events in the day ahead," said Mr Sundeep Bhutoria, Treasurer, WFUNA.
WFUNA is a global non-profit organization representing and coordinating a membership of over 100 national United Nations Associations (UNAs) and their thousands of constituents. At the WFUNA Foundation launch in India, the Director of the United Nations Information Center (UNIC) for India and Bhutan, Ms Kiran Mehra-Kerpelman, WFUNA's Treasurer, Mr Sundeep Bhutoria, and other officials were present.
The purpose of WFUNA Foundation is to further WFUNA's activities and initiatives in India by supporting the implementation of programs and projects that highlight and spread awareness on issues ranging from human rights to sustainable development and also spreading amity among nations.