Kolkata
Kolkata: US Consulate, Aroh Foundation conduct two-day bootcamp for West Bengal's women entrepreneurs
Kolkata: The U.S. Consulate Kolkata, in partnership with New Delhi-based non-profit Aroh Foundation, conducted a two-day Academy for Women Entrepreneurs (AWE) 3.0 bootcamp for a cohort of 30 entrepreneurs from West Bengal at the American Center in the city recently.
Speaking at the inaugural session of the event, U.S. Consul General Melinda Pavek said: "AWE started in India in 2020 to support participant access to peer-to-peer mentorship, business partnerships, and scaling opportunities both with businesses in the region and in the United States."
"So far, the program has supported 350 early-stage business owners by providing U.S.-style online education with guided facilitation from local women business leaders and other partners," she said.
"After participating in AWE, more than 50 percent of our AWE women have held on to or successfully grown their ventures," she said.
"About 20 percent of them have reported they increased their revenues by double or more. Another 20 percent collaborated with other AWE participants for business growth or formed AWE networks in their respective states. Our AWE entrepreneurs have also successfully raised about $375,000 in funding," she said.
The AWE participants earier attended an eight-week online Dreambuilder program at the University of Arizona.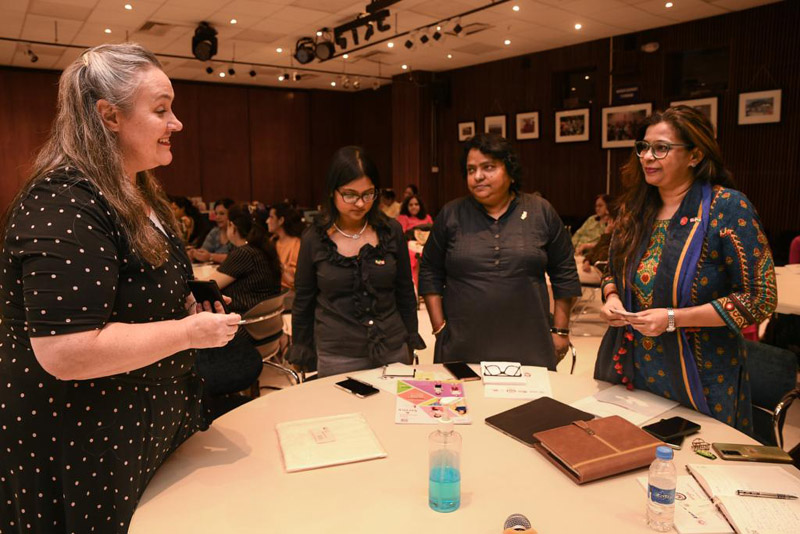 During the Kolkata event, the participants worked on their business plan, fundraising and business pitches, and presented before an expert jury who gave them feedback to improve their skills further.
Speaking to IBNS, Divya Rajput, Innovation and Business Sustainability Evangelist said, "We feel women face some specific barriers as far as dealing with entrepreneurship is concerned. There are other issues as well which they face and we try to address them through the programme."
"We try to give them confidence," she said.
"We try to give them the perfect experts who can guide them in their tasks," she said.
Bahnisikha Roy, one of the participating entrepreneurs, said the workshop helped her in gaining more knowledge from the experts who addressed them during the two-day event.
Roy, who is the owner of a startup named Baby Garments, said: "I want to ensure that my brand reaches a larger audience in the upcoming days and the knowledge I gained from the workshop will help me in doing it."
Aayushi Gupta, who runs Avighnya Academy, told IBNS: "This workshop helped me learn and understand my business plan in a completely different way. I can confidently say that this event helped me a lot."
Reshmi Mukherjee, owner, Skintopia Skincare, said: "I have learned a lot about properly creating a business plan after participating in this workshop."
Through the year-long project, participants will continue to develop partnerships, identify mentors, build specific skills, and explore funding opportunities with the help of public-private partnerships to scale businesses.
In 2020 AWE pilot project was launched in partnership with non-profit Asian Confluence in Nagaland, Meghalaya, Assam, Manipur, and Arunachal Pradesh.
In 2021, U.S. Consulate Kolkata partnered with Aroh Foundation, and Amazon web services to launch the second edition in the Hindi belt of Bihar and Jharkhand.
In 2022, again in partnership with Aroh Foundation U.S. Consulate Kolkata launched the third edition of AWE in the states of West Bengal and Sikkim.
U.S. Consulate Kolkata has been promoting women economic empowerment through its flagship program, the Academy of Women Entrepreneurs (AWE).
(Reporting by Supriyo Hazra)