US
Kolkata: U.S. Consulate Kolkata, partners host workshop to mark Human Rights Day
Kolkata: Observing the Human Rights Day, U.S. Consulate General Kolkata hosted a workshop-finale titled "Inclusion and Diversity: Are We Doing Enough?" designed by U.S. based non-profits StoryCenter and Theater Alliance in partnership with the U.S. State Department alumni at the American Center Kolkata on Saturday.
The event marked the culmination of a five-day workshop that brought together 10 LGBTQI+ activists and participants from the U.S., Arunachal Pradesh, Assam, Tripura, and West Bengal to share their own personal stories and express their voices through short videos and podcasts.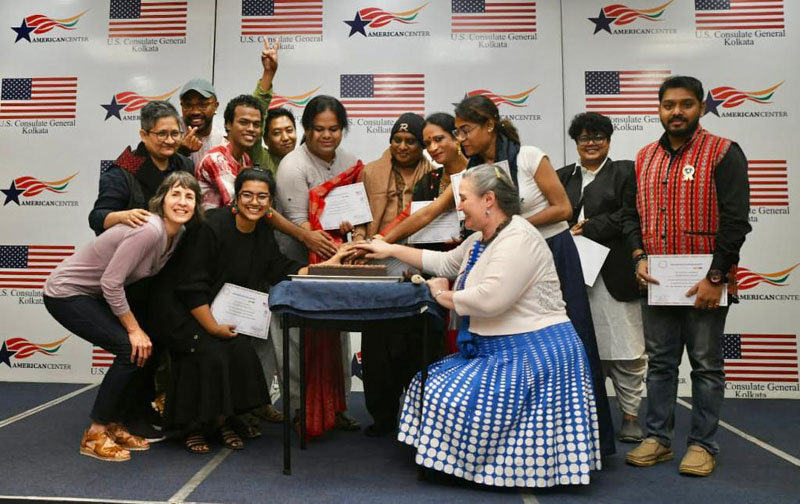 In her welcome remarks, U.S. Consul General Melinda Pavek said, "The United States will continue to stand up proudly for the human rights of all people. Just as you will always find an ally in us, we will continue to find allies and partners committed to strengthening the circle of belonging… Engaging youth leaders, educators, law enforcement officials, health professionals, and employers as allies will help as we work toward a truly inclusive society… Protecting universal human rights is at the very heart of our diplomacy, and we remain committed to advancing human rights for all, including LGBTQI individuals."
During the event, the participants presented their personal powerful stories through videos, podcasts and digital stories, and it was followed by a moderated conversation on how to create spaces where LGBTQI+ community members are "seen, accepted. and supported" by strengthening existing networks and developing new allies and partners.
Theater Alliance Director Raymond Caldwell, who moderated the conversation, said, "We at Theater Alliance believe in using theatre as a tool to aid communities in navigating the most vital conversations of our time. We were thrilled to partner with members of the LGTBQIA+ community here in India to introduce theatre skills that supported and enabled the sharing of personal narrative. It is in sharing and listening to individual's stories that communities recognize and learn deeply about one another cultivating profound spaces of empathy and healing."

Amy Hill, Program Director of StoryCenter spoke about the project scope and introduced the project partners.
She said, "I began my activist days working for queer rights in the United States back in the 1990s, and I'm grateful to find myself coming full circle and working with the community here. Our work at StoryCenter centralizes first-person stories told from a position of strength and joy, and participatory media processes that build skills and bring people together to represent themselves, rather than being passive subjects of media representation by others. Offering a safe space where LGBTQIA+ community members can reflect, connect, and grow through storytelling creates a platform from which solidarity and action for justice can emerge.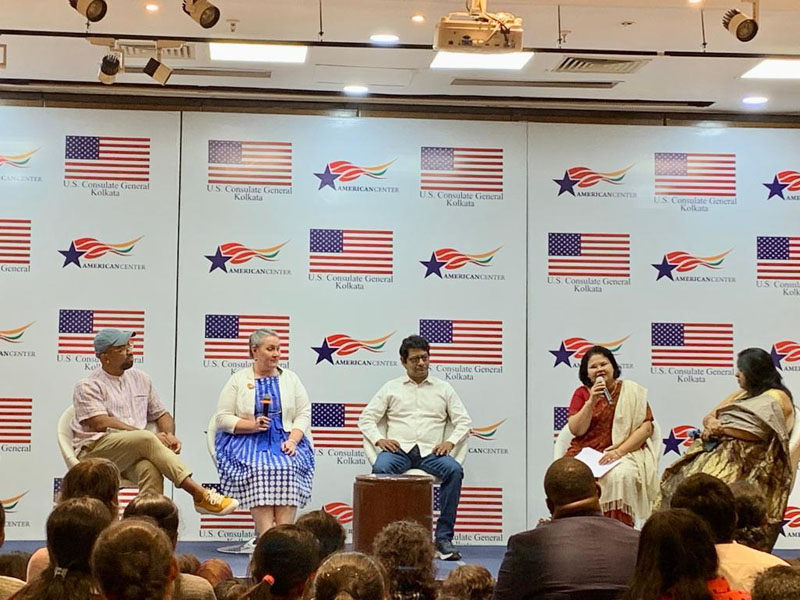 U.S. State Department Alumni Prithviraj Nath said, "In our recent survey of more than 350 LGBTQ+ individuals from across 20 districts of West Bengal, we found that more than 70% of all respondents who opened up about their sexuality-gender expression have faced discrimination, including at educational and working spaces. We hope to leverage these moving first-person narratives and stories of human triumph against odds, as advocacy tools, to initiate conversations and action on inclusion of LGBTQ+ individuals in learning and workspaces."

U.S. Consulate Kolkata works round the year on initiatives that support inclusion and acceptance of all communities.
The Rainbow Dialogues project has provided a space for LGBTQI+ community members to discuss issues related to inclusive public health and employment, helping build a strong alliance across South Asia.