Chocolate Durga
ITC Hotels master chefs in Kolkata hand-craft chocolate Durga
Kolkata: It is not just Kumartuli clay artists' colony in Kolkata where Maa Durga is given its divine powerful shape every year. The mother goddess is welcomed by even the creative master chefs in their own way.
Well, master chefs at ITC Royal Bengal & ITC Sonar in Kolkata this year have hand-crafted goddess Durga with gourmet chocolate, reimagining the deities and comparing the fight of good over evil with the ongoing fight against coronavirus.
The chefs paid tribute to all those who helped make the Covid19 situation better with knowledge, strength and resilience.
The edible chocolate sculpture depicts the homecoming of Maa Durga.
Right from the base of the pandal, figurines and floral decoration it took 35 kgs of chocolate, 40 days and 353 Man-hours of 10 chefs to complete the whole structure, from planning to giving the golden finishing touches.
Maa Durga is shown by the chefs as the supreme power who, with vaccine as her weapon, is ready to win over the coronavirus. Mahishasur has been reimagined as the virus who is overcome by Maa Durga.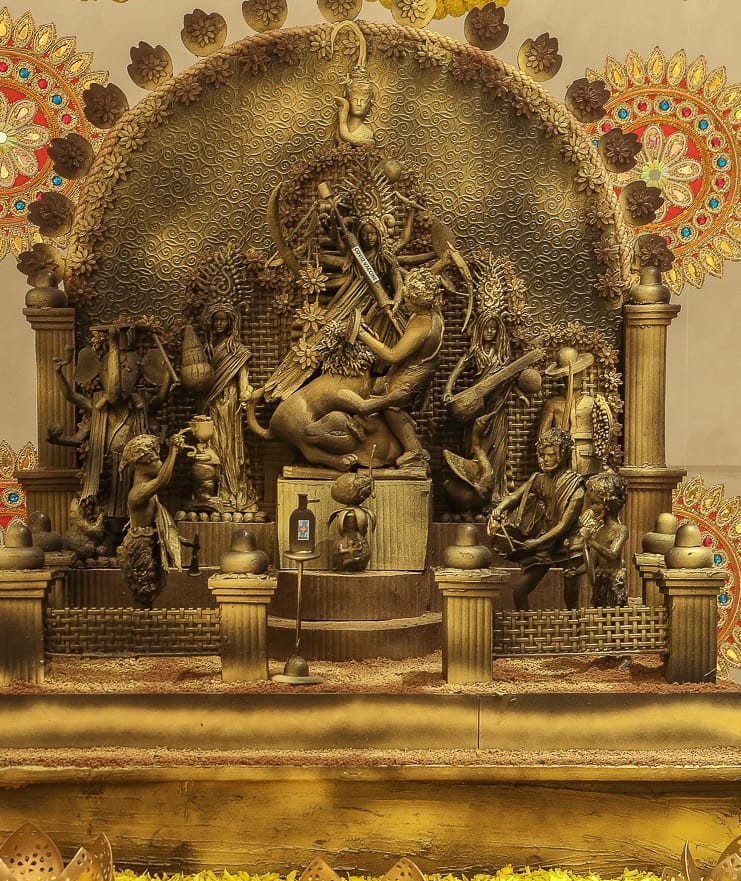 Lord Ganesha has been visualised as the scientist representing wisdom while Maa Lakshmi symbolises economic progress through new opportunities like home grown businesses, entrepreneurial endeavors, etc.
Maa Saraswati symbolises the forgotten hobbies that people rediscovered during the pandemic.
The lion represents our brave front line workers while the Indian soldiers are represented by Lord Kartikeya.
Lord Shiva has been depicted as the ultimate power who is overseeing all of Maa Durga's actions, providing guidance.