Protest Ride by Bengal HOG chapter
Bengal HOG chapter hold protest ride against Harley Davidson's decision to stop its India business
Kolkata/IBNS: Recently, highway travelers between Kolkata and Kolaghat may have seen a group of Harley Davidson riders zooming past.
But it was not a joy ride.
It was a protest by the Bengal HOG (Harley Owners Group) chapter against the company's decision to wind up its business in India.
The company set up shop in India about a decade ago.
According to a release by the Bengal HOG chapter, the decision to discontinue its sales and manufacturing operations in India by Harley Davidson, which was catering the local markets with a nationwide network of over 30 dealerships came as a shock to the HOG brotherhood of more than 25,000 riders.
Gopi Krishna More, Director of the Bengal HOG Chapter, was amenable to the idea that a multinational corporation, Harley-Davidson Inc, has a right to review its global operations and, if necessary, take tough business decisions.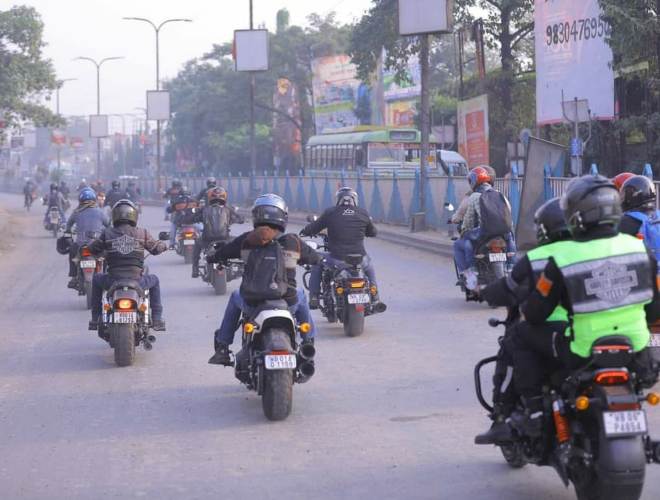 But they cannot leave their buyers in the lurch, he said.
"A Harley is an expensive motorcycle to buy and maintain, and we riders have an extremely strong emotional bond with our machines and also with the entire HOG brotherhood," said More.
"Today riders are not sure whether they will be able to get their bikes serviced in the long-run, or whether necessary spare parts will be available. These are not bikes that can be serviced by local mechanics. The company simply played with all our emotions and then left us high and dry," he said.
Reacting to the outcry from the HOG community, Harley-Davidson has announced recently that their existing dealer network would continue to service their customers till December 2020, and Indian two-wheeler manufacturer Hero Motocorp Ltd would thereafter take over the responsibility of managing the sales and service operations for Harley-Davidson bikes in India, according to the release.
However, the present owners are not satisfied with the parent company's decision, and the employees of showrooms and related services face an uncertain future.