Giveback Offer/Taco Bell
Don't miss Taco Bell's Giveback Offer this Durga Puja in Kolkata
Kolkata/IBNS: Taco Bell India, part of the Mexican inspired quick service restaurant chain Taco Bell, has launched a special offer during Durga Puja celebrations in Kolkata.
Under the special 'giveback' offer, consumers will get a free Fiesta Taco from the newly launched Best of Bell menu with every meal that they purchase at their Kolkata outlets.
The offer is valid till October 25.
Said Manita Panjwani, Sr. Vice President, Burman Hospitality Pvt Ltd (Taco Bell's master franchise partner in India), "The spirit of Calcutta during Pujo is surreal and one simply cannot stay away. People of Kolkata have shown Taco Bell immense love since the launch of our first restaurant in the city last year. We are delighted to participate in the celebrations through our special 'Giveback' offer for Taco Bell fans in Kolkata."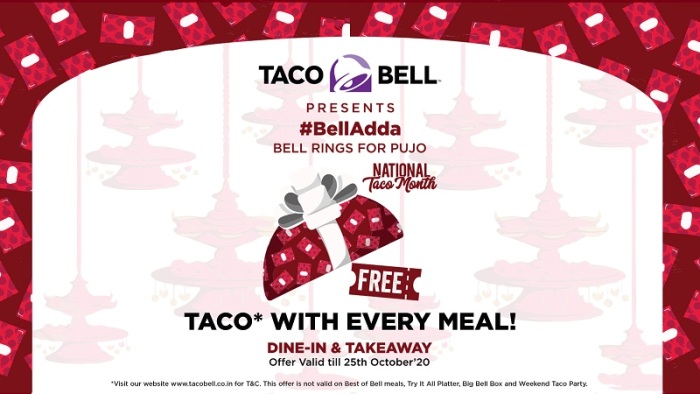 Taco Bell recently launched the new 'Best Of Bell' menu across all stores in the city.
The new value-offering 'Best Of Bell' includes a range of items priced at Rs 59 for vegetarian variants and Rs 69 for non-vegetarian variants.
Menu highlights include Fiesta Taco, Burrito Roll and Mini Quesadilla to the Mexi Wrap, Cheesy Roll-Up and Churros 'N Chocolate.