JW Marriott Kolkata revamps its food home delivery menu with increased focus on healthy eating
Kolkata/IBNS: JW Marriott Kolkata, has overhauled its food home delivery service menu in keeping with customers' increasing focus on healthy eating but without cutting down on the gourmet value.
The menu features a wide selection of dishes from JW Kitchen, Vintage Asia and JW Lounge.
The new Wellness Menu even clearly mentions the nutritional components and calories.
For example, you will find that a 'Chicken Sous Vide with Thyme Garlic' is rich in sodium, potassium, protein, and packs in 192 calories.
Highlights from the menu include 'Mesclun Salad', 'Gluten-free Penne in Tomato Sauce', 'Slow cooked Scottish Salmon', 'Braised Organic Chicken with Ginger and Scallion', and 'Soba Noodles with Chicken'.
The all-day menu includes both international and Indian dishes.
Or you may order pan Asian specialties from Vintage Asia, such as 'Chicken and Shitake Sui Mai', 'Mushroom Bao', 'Thai herb scented Tofu Soup', 'Tiger Prawns, Pak Choy and Thai Chilli Salad', 'Yong Chow Fried Rice' and 'Wok Tossed Handmade Noodles with carrot, beans, spring onions and chilli flakes', etc.
There is also a wide range of desserts to choose from the all-day menu and that of Vintage Asia.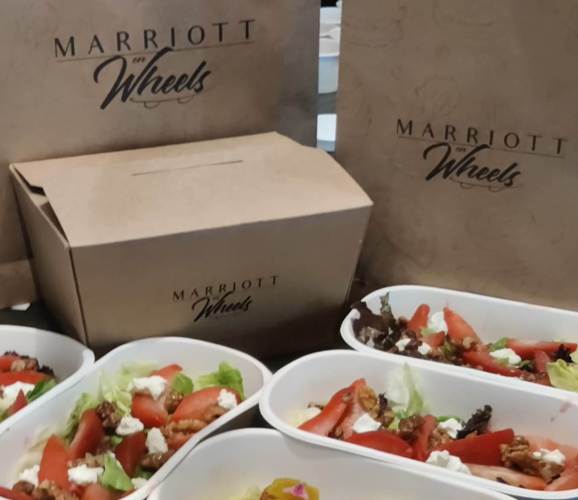 According to the hotel, they have taken all precautions to ensure the best of hygiene measures, such as regular temperature checks, sanitization, protective gear worn by associates and delivery executives at every step, double layer packaging, contactless delivery, and QR payments.
Called the Marriott on Wheels, the home delivery service is not only available through popular food delivery apps but also directly from the hotel (if you are staying within an eight km radius).