Calcutta Youth Choir pays tribute to its late founder Ruma Guha Thakurta
Kolkata, June 7 (IBNS): Calcutta Youth Choir, which is known for their performance of folk and mass songs, paid tribute to one of its founders late Ruma Guha Thakurta recently.
The tribute programme of Ruma Guha Thakurta by Calcutta Youth Choir was attended by renowned singer Usha Uthup.
The Calcutta Youth Choir started the programme with the song Sanghachadda and ended with the theme song of 'Calcutta Youth Choir.'
Sromona Chakraborty, daughter of Ruma Guha Thakurta was also present and performed her favorite songs.
Veteran Bengali actress and singer Ruma Guha Thakurta, who worked with Satyajit Ray and had founded the Calcutta Youth Choir in 1958 with Salil Chowdhury and Ray himself, died on Monday. She was 84.
Once married to India's playback legend late Kishore Kumar, she was the mother of singer Amit Kumar.
She was married to Kumar from 1950 to 1958.
Their son is singer Amit Kumar.
Guha Thakurta had acted in the award-winning 1960 film Ganga directed by Rajen Tarafdar in which the music was scored by Salil Chowdhury. She made her acting debut with Amiya Chakravarty's Jwar Bhata (1944).
A popular face in Bengali cinema for several decades, she had acted with legendary Bengali comedians like Bhanu Bandyopadhyay in films like Ashite Ashiyo Na.
She also worked in noted movies like 36 Chowringhee Lane and The Namesake.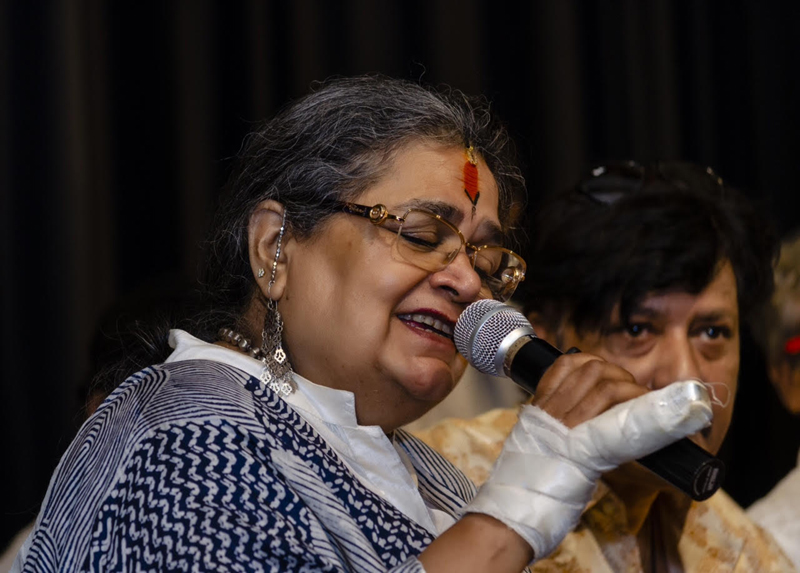 Ruma Guha Thakurta is best known for her appearance in Satyajit Ray's popular movies Ganashatru (1989) and Abhijan(1962).
Ruma Guha Thakurta and her Calcutta Youth Choir:
She had founded the Calcutta Youth Choir in 1958.
Guha Thakurta's Calcutta Youth Choir was an integral part of Bengali cultural scene for several decades. It had won award in Copenhagen Youth Festival in 1974 and had welcomed Nelson Mandela in India in 1990. Her choir also participated in the 25th anniversary of the Independence Day in India in New Delhi.
The songs performed by choir under Guha Thakurta were of Dwijendralal Ray, Rabindranath Tagore, Rajanikanta Sen, Nazrul Islam, Prem Dhawan, Sudhin Dasgupta, Salil Chowdhury and Sibdas Banerjee.
Calcutta Youth Choir pays tribute to its late founder Ruma Guha Thakurta
India Blooms News Service
Post your comment: