Infosys Bangalore celebrates the harvest season by organizing Ellu – Bella
Bangalore, Jan 22 (IBNS): Infosys Bangalore celebrated the harvest season, the festival of Sankranthiby organizing Ellu Bella, an annual folk festival under the flagship of Sirigandha volunteer group. This was the eleventh year of the successful ellubella celebrations.
The event commenced with a folk procession and folk games - ChowkaBaara, a traditional Indian board game and TyreBandi.

The 'ChendeVadana' (a rigorous dance using chende, a cylindrical wooden drum) group from Mangalore, the 'MahilaVeeragase' (a vigorous dance based on Hindu mythology) group from Chikmagalur, and the 'Dollukunita' (a popular dance form accompanied by the beats of decorated drums) group from Sagara enthralled the audience.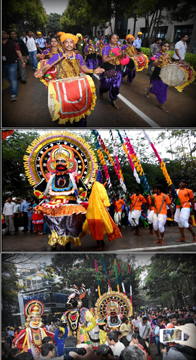 The 'PataKunita' (dancing with embellished bamboo poles), SomanaKunita' (a ritualistic dance associated with worship of the GramaDevate and characterized by elaborate masks) and 'Garudigombe' (a folk dance in which dancers dress in suits made of bamboo) performances were also a visual treat.

To delight the food lovers, a two day Sankranthi special food festival was organized at the food courts where various harvest season special delicacies were served. Furthermore, the lawn was decorated with Scarecrows made by Sirigandha volunteers using scrapyard materials and colorful pinwheels that set a rustic mood.

Through ellubella, Infosys aims at providing a platform to folk artists to showcase their talent and introduce these lesser known art forms to Infoscions.