Gallery Sanskriti celebrates flower power
'Flower Power' is a unique exploration into the softness of the 70's peace and love era when joy and vibrancy were not just a celebration, but a way of life. A one-of-its-kind thematic teapot show in the country, hosted by Gallery Sanskriti, Kolkata, 'Flower Power' is focused on the naturalness of a simple flower and tea-drinking, infusing the two, into festive ceramic kettles.
With the participation of renowned national and international ceramicists like Ira Choudhury, Jyotsana Bhatt, Mansimran Singh, Rekha Bajpe Agarwal, Panthini Thaker, Ritvij Mistry, Shampa Shah, Nidhi Chopra, Sharbani Dasgupta, Pallav Das, Ajay Kanwal, Nehal Rachh, Sandra Black (Australia), Anatolii Borodkin (Latvia), Eugenia Loginova (Latvia), Isabelle Roux (France), Anjani Khanna, Falguni Bhatt Sanghavi and Aditi Saraogi.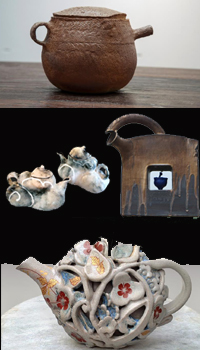 Since this is such an exclusive show, the gallery thought the ceramists would like to share their experience on participating with the Gallery:

Shampa Shah: "With asymmetry ingrained in it, the form of the kettle has continued to lure the potters of all times. For me, a kettle stands for pouring - giving. And the non-violent power of a flower too lies in pouring out its fragrance to one and all."

Jyotsana Bhatt: "I have always enjoyed working on thematic Ceramic Shows; the "Flower Power" has also been a fun project."

Anjani Khanna: "I grew up in the 1960s and 1970s, the younger by six years, of two siblings. As a result I was exposed to the Beatles, Joan Baez, Joni Mitchell, the Doors, and Bob Dylan amongst others at a very young age. Through my growing years, mother would refer to me as a lotus eater."

Nehal Rachh Nandi: "When asked to work along the theme of 'flower power', the few things that came to my mind were – love, peace, softness, joy and protection. By being gentle and loving one can over overcome the largest battles in the world."

Rutvij Mistry: "Flower Power Kettle Show to me is a unique idea where only Kettles will be exhibited in the show made by various artists. I took this as an opportunity to explore with unique forms which could be functional or non-functional sculptural."