Vijaya Dashami
Image Credit: UNI
Vijaya Dashami: Bengal bids adieu to Goddess Durga with immersion
Kolkata/IBNS: The biggest religious festival of the Bengali community came to an end on Wednesday with the occasion of Vijaya Dashami as revellers bade adieu to Goddess Durga and her children.
According to mythology, Goddess leaves the mortal world on this day and reaches her abode of Kailas.
Traditionally every year, West Bengal bids adieu to the Goddess Durga on a sad note with tears in their eyes in the emotional and symbolic journey of deposing the idol. With the immdersion of the idols, the five-day annual autumn festival comes to an end with the hope to celebrate the same next year.
On Wednesday, the puja marquees across the state were abuzz with the rituals of worship and 'sindoor khela', a ritual with vermillion observed mostly by married women.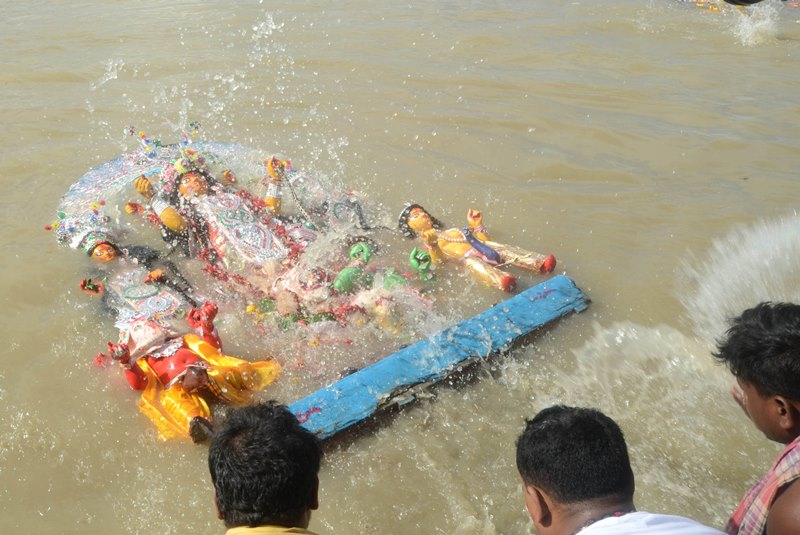 The ritual worship of the goddess ended with the darpan visarjan of Dashami. Apart from this, the idol of the goddess is worshipped with beetal leaves and flowers.
As the day commenced, revellers took part in different processions celebrated with traditional music of counch, dhak and bands. People could be seen dancing and cheering all the way to the immersion spots. Devotees thronged the riverside (ghats) in Kolkata and in several parts of Bengal to bid farewell to Goddess Durga.
The crematoriums and burial grounds across the state were left overwhelmed amid a spike in deaths due to the virus.

With the immersion of the idols in the river, the Bengali community greet each hugging and saying 'Shubho Bijoya' only to start the countdown to the next year's festivities.
West Bengal Chief Minister Mamata Banerjee wished everyone on the occasion.
"Bijoya Dashami greetings to all! As we bid adieu to Maa Durga on this emotional day, let us remember the significance of the victory of good over evil. May this day inspire us to fight for the right cause. I pray that Maa Durga continues to bless us with strength and courage," she wrote on Twitter.
Bijoya Dashami greetings to all!

As we bid adieu to Maa Durga on this emotional day, let us remember the significance of the victory of good over evil.

May this day inspire us to fight for the right cause. I pray that Maa Durga continues to bless us with strength and courage.

— Mamata Banerjee (@MamataOfficial) October 5, 2022