Probashi Pujo
From Jakarta and Mauritius to Toronto, Bengalis celebrate Durga Puja with gaiety
Jakarta/Port Louis/Toronto: Durga Puja is a great occasion for Bengali diaspora across the world to pull up their socks and celebrate the homecoming of the mother goddess by organising pujas and cultural events. IBNS brings you some glimpses from different parts of the world.
Jakarta, Indonesia:
All Bengalis across the world celebrate Durga Puja and Jakarta, the capital of Indonesia, is no exception. Well one Durga Puja in Jakarta has stepped into its 38th Year traversing a long and colourful path since its inception in 1983.
The Jakarta Bengali Association (JABA) has made every possible arrangement to organise this auspicious tradition at the Pluit Shiva temple amidst the ongoing Pandemic with strict health protocols as stipulated by the local government, said Abhijit Mahapatra, Convenor of JABA.
For the first time JABA has physically knocked its members' doors and given them "Garder Sari" – a special handwoven fabric exclusively brought from the motherland. This has created a unique feeling of togetherness amongst the JABA family. In addition, distribution of food at "Matir Malsha" (a unique earthen pot from old Kolkata) on the eighth day of the pooja has taken this year's Durga Pooja to a different dimension.
Bengalis, worldwide, are known for their rich culture and Durga Pooja is one of the biggest platforms for Bengalis to showcase their cultural inheritance. This year JABA members are commemorating the event with group dances, solo singing, antakshari, instrumental performance, Shruti Natok (audio drama) and of course Bengali's very own Dhunuchi Naach.
The Indian ambassador to Indonesia, Manoj Kumar Bharti, has honoured the event with his presence and sought Maa Durga's blessings. This has added an extra feather to JABA's cap.
Combined with all this, this five-day long Durga Pujo of the Bengali Association in Jakarta, the capital of Indonesia, seems to have become another replica of our own Durga Puja in Kolkata.
"This is also a history in Jakarta Bengali Association,Indonesia that a sitting President Mr. Subrata Mukhopadhya of our esteemed organization has performed all five days of Durga puja maintaining all rituals with full stamina," said Mahapatra.
The Executive Committee of this puja comprises Subrata Mukhopadhyay (president), Tapan Sannigrahi (vice-president), Abhijit Mahapatra (Convenor), Tinto Bakshi (Secretary), Suryakanta Chakraborty (Jt Secretary) and Subir Das (Treasurer)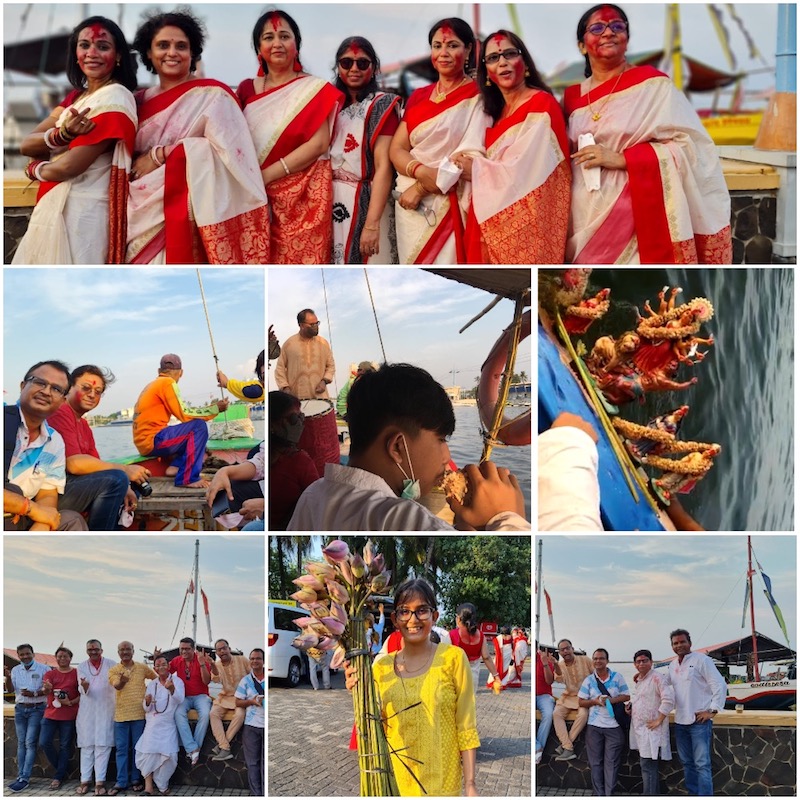 Mauritius
The Durga Puja here by a Bengali community (read Bengali Association) turned seven this year. "It is hosted at our home in Quatre Bornes (a town in Mauritius)," says Niladri Biswas, one of the organisers. While this puja is not under any committee, both the Bengalis and non-Bengalis participate together.
The puja starts from the first day of Navratri and ends with Bijoya Dasami. "The puja is conducted in the morning by an acharya who is from Orissa. In the evening we do a grand aarti at 7.30," informs Biswas, adding that "dhak is played on the sound system".
In pre-Covid times some 250 to 500 people would attend the aarti or the puja. Due to restrictions this year they allowed only 50 people. "After aarti we run a live snacks counter. People participate to make snacks which range from golgappa (fuchka), veg pakora, papri chat, bhelpuri, etc. This is followed by Prasad. Menu is different on different days of the puja. The cooking is without onion and garlic."
While usually Bhajan groups come to perform small individual dances are performed by the children. "We also play songs and perform dandiya. No Bollywood song is played," Biswas says.
The idol of Durga is locally made in Mauritius by an artisan in about 15 days.
According to Soumish Dev, an executive committee member, cultural events were avoided this year owing to the pandemic.
Brampton / Toronto, Ontario, Canada
This is one "barir pujo" in Toronto that is now increasingly getting popular with the Bengalis in Brampton and Mississauga areas of Greater Toronto Area's Peel region. Suman and Piyali Chakrabarti started the first known Durgo Puja celebrated at their residence (Barir Pujo) along with their childhood buddies of Kolkata's well-known South Point School at Brampton.
The duo and their friends with all their passion and integrity continue since this Durgo Utsav started in 2017 at their residence. It soon got support from the Bengali community and celebrated its 5th year this time.
The Chakrabarti's family carried this Durga Puja which was started by Rashid Chandra Chakrabari, grandfather of Suman Chakrabarti (in above image with wife Piyali), way back in 1966 at their Dhakuria residence in South Kolkata.
The puja follows the entire family tradition and Hindu almanac and stands pioneer as one of the first Barir pujo in Toronto. The entire team of the South Point friends of childhood and their family are involved in this Puja for months to make it a success.
Because the puja is organised at Suman-Piyali's house on Francis Lundy Street in Brampton, it is also now popularly called Lundy Parar Puja (Puja of Lundy neighbourhood).
Some of the well-known Durga Pujas in Toronto are Vedanta Society of Toronto, Canada; Toronto Kalibari, etc. Some glimpses of the Durga at these places:
Toronto Kalibari
Canada Vedanta Society
Agomoni Pickering
Canada Hindu Dhormasram