Hard Rock Cafe
Anindya Chatterjee and Tnusree Chakraborty pose outside Hard Rock Cafe
Rock it... with Hard Rock Café's Merchandise!
Hard Rock Café's intimate association with rock 'n' roll has helped establish a large and loyal clientele base. Its commitment to rock music, and association with rock music's history, has translated into its remarkable collection of musical memorabilia, as well as in its merchandise, all of which have successfully wooed the youth.
Hard Rock's classic trend-setting logo tee that prompted the commencement of the cafe's very first Rock Shop. The increase in demand for the tees necessitated the formation of a retail outlet that gradually spread its commercial wings to include the sale of merchandise like limited edition pins, hoodies, luggage, hats, active wear, jewellery, accessories and glassware among many other things.
Such appealing products created a market of its own and Hard Rock Cafe's merchandising turned out to be a rewarding venture. It was a matter of time that the music-lovers of this city would go gaga over these commodities. The Rock Shop is conspicuously nestled near the entrance of the Kolkata outlet of Hard Rock Cafe. Customers are loving the chic-printed tees and the hoodies and accessories.
Actors Tnusree Chakraborty and Anindya Chatterjee dropped by at the Rock Shop to check the goodies and were understandably impressed. "I love the wide-range of products available here. I am certainly buying some of the nice hats and pieces of jewellery," said Tnusree, who wore a stylish printed tee with the Hard Rock Cafe logo on it. Anindya too felt that the products were "eye-catching and trendy". "I love the collection of hoodies and different kinds of accessories. I look forward to buying my stuff from here only." He added.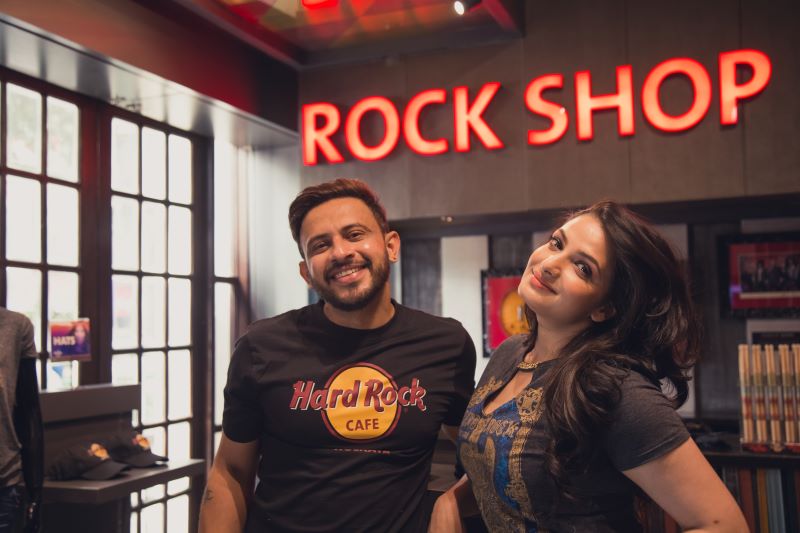 Anindya Chatterjee and Tnusree Chakraborty at Hard Rock Cafe
Hard Rock Café, Kolkata is offering lucrative discounts. One of them is the beer bucket offer. You get a hefty discount of approximately 1000 INR if you purchase any one tee along with a beer bucket. And the other is the Super Friday Sale. Here are the details…
Beer Bucket Offers
Budweiser Bucket + Any one T-shirt @ 2799 INR
Carlsberg Bucket + Any one T-shirt @ 2699 INR
Kingfisher Bucket + Any one T-shirt @ 2499 INR
Tuborg Bucket + Any one T-shirt @ 2299 INR
Super Friday Sale: Another type of offer is a conventional Super Friday Sale that allows 30% off on all Tees and 50% off on Sunburst Hoodies, Ladies Vinyl Logo and Snakeskin Ladies tee.
"Our merchandise is already in high demand and we believe that these generous discounted offers will attract more customers. People are sporting our tees, hoodies, accessories everywhere I go, and it shows how intimate a connection HLC has with its patrons," said a gratified Vanita Bajoria, Director Hard Rock Cafe, Kolkata.
Hard Rock Café is a global chain of music themed resto-bars known for its rock and roll memorabilia with over 180 cafes around the world. Hard Rock Cafe has a vast menu that includes classic American staples like The Legendary Burgers, Nachos, Classic Chicken Wings and locally-inspired flavours that are bound to bring a smile on your face.
Burgers, fries and milkshakes were just the beginning, but over the years Hard Rock has evolved from a restaurant into a global phenomenon, founded on a commitment to charitable activities and humanitarian causes in every corner of the world. Their four core mottos are…All is One, Love All-Serve All, Take Time to Be Kind and Save the Planet…all of which have served as the pillars on which Hard Rock's reputation and popularity was based. And that commitment continues to be the company's guiding principles.
Address: 57-A, Park Street, Park Mansion, Kolkata– 700016.
Open: Monday- Sunday from 12 noon to 12 midnight.
Phone: + 91 8240770019
Email: hrckolkata.comm@gmail.com