Club Urban Tyro—where food is served with a touch of class!
The name is interesting—Club Urban Tyro! It stands out amongst a long list of 'where to eat places' spread across the city of Kolkata. Conveniently located on the ground floor of the Old Sikkim House, it is an interesting addition to the fascinating food landscape, more so as it has brought with a well-researched and authentic oriental and Chinese food served with a touch of class. Each item is presented aesthetically which adds to the experience of relishing them.
Club Urban Tyro has been conceptualized by Raunak Nath. He has drawn inspiration from the city's very own Chinatown, and the much celebrated Chinese food from Tangra.
Raunak has been a foodie, and while growing up in Kolkata he was privileged to have sampled the fine mix of cross-cultural cuisine that this city offers. After graduating as a civil engineer from the United States, he knew he had to return to his home town to join his family business in Kolkata, but more importantly, to chase his dream of being a restauranteur.
"The word 'tyro' means a beginner or a newcomer." explains Raunak Nath, "It defines what I am…a newcomer in the hospitality business."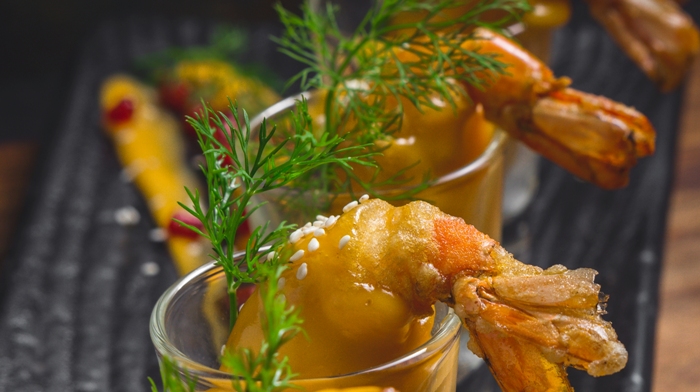 Most Kolkatans, feels Raunak, appreciates good Chinese cuisine, a fact that encouraged him to plan the food menu with care to feature only the most exclusive delicacies. Be it the Truffle Cream Cheese Dumplings, the Chicken Black Pepper Dumplings, the Thai Corn Fritters or the delectable Dynamite Prawns, the selection served, is truly a gourmet's
delight.
From the Chilli Chicken Bao, to a bowl of Chongqing Chicken Clay Pot paired with a portion of Burnt Garlic Fried Rice, every item on their menu serves a plateful of surprise!
The Trufle Cream Cheese Dumpling was literally the star of the evening…semi-transparent, moist, melt-in-the mouth with the cream cheese filling made delicately crunchy with finely chopped water chestnuts! Wow! Had never tasted anything like that before! To top it all, Club Urban Tyro offers a fine choice of mocktails and shakes to complement their meals— the Kit Kat Shake or a Peanut Butter and the Nutella Shake! Try their Bloody Tyro or the Luscious Litchi mocktails…truly interesting!
Recently they held a week-long celebration of love to coincide with the Valentine's Day. A special menu that the Club had on offer included a delectable array of items—Thai Chicken Rose Dumplings, the Truffle Mushroom Dumplings and beverages like the Red Kiss, Sweetheart and many more tempting ones!
The smartly designed interiors of the Club, not only offers a visual treat but is extremely cosy and comfortable. Just the place to be with close friends for a relaxed time and good
food! With the luxurious ambience of a top-end club, it accommodates as many as sixty people into the space, apart from which the club also has two private dining areas or rooms that can fit in, and serve, around ten to twelve people each.
Club Urban Tyro has also on its menu, a tandoori and an Indian section to cater to the palate of its customers. So, don't resist the temptation to indulge in a plate of delicious prawn dumplings or to celebrate the flavours of tandoor with kebabs and tikkas! Everyone dropping by will have enough options to relish at this new hub in town. Reasonably priced, the food served will make one want to come back again and again. A must try… the Jafrani Kofte with the classic Butter Naan!
Raunak says, "This is where my heart lies and there can't be any greater joy than being able to create and open up a space for the people of my city, to celebrate their love for good food…George Bernard Shaw too had said… 'There is no love sincerer than the love of food.'"
Address:
Ground Floor, Commerce House, 4, 1, Middleton Street,
Old Sikkim House, Kolkata, West Bengal 700071.
Operational Hours: 12:30pm – 11pm
Pocket Pinch: Rs. 1,000 for two people
Contact number: 098317 31214