Sequins to Macarons: Limited-edition haute desserts from Yauatcha
Kolkata/IBNS: Curious to know what happens when a fashion designer and celebrity stylist join hands with a French inspired patisserie?
Then rush to Yauatcha Kolkata (or their outlets in Mumbai and Bengaluru).
In keeping with the global trend of merging food and art, Yauatcha has collaborated with designer Manish Malhotra to come up with a range of limited-edition haute desserts.
Drawing inspiration from Malhotra's Festive Couture collection, Maahrumysha, Yauatcha's macarons and petit gâteaux reflect the fine craftsmanship and intricate detailing that the collection embodies.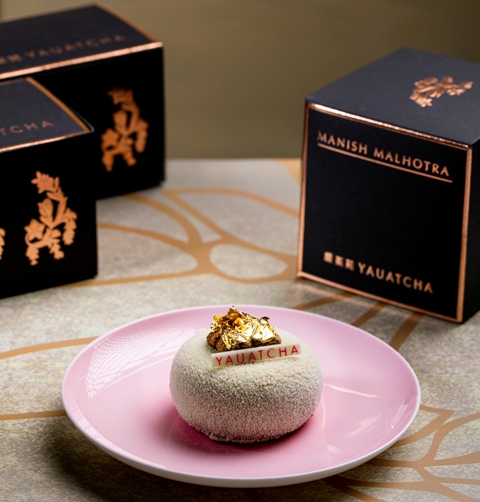 Textural elements in the petit gâteaux mimic fabrics like velvet while gold finishes bring out the expertly crafted gold thread zardozi work.
The range includes flourless chocolate cake, grand macarons, flavoured macarons and other mousse-based desserts, to which the team has added rose, pistachio, coconut, etc. to add layers of taste.
The Royal Rose Grand Macaron is flavoured with rose, filled with white chocolate cream and rose in the centre, finally finished with a bow shaped white chocolate ruffle and a delicate rose petal.
The Velvet Milk Chocolate Praline, using milk chocolate and hazelnut mixed with salted caramel sauce, is a mousse-based dessert that is finished with a golden leaf on top.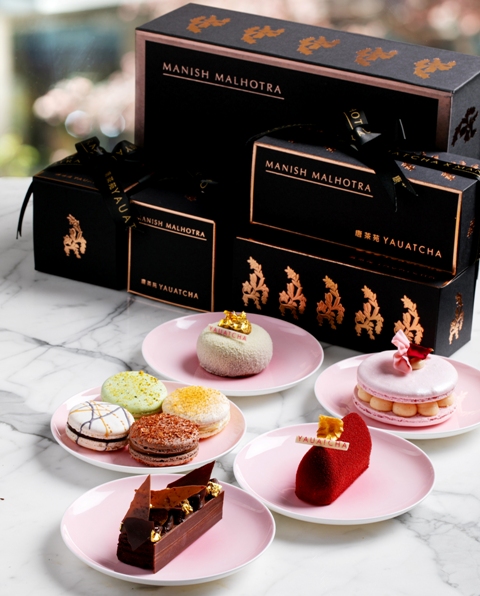 The Golden nougat, a chocolate brownie like petit gateau, with molten chocolate at the centre, has an ivory velvety texture topped with golden dusted cookie crumble.
The Golden leaf, a gluten free dessert, is a flourless spin on the classic chocolate sponge cake made with French style meringue and cocoa.
The festive macarons, dressed in gold dusted feuilletine (made from thin, sweetened crêpes) flakes, include flavours like Coconut with golden dust, Pistachio, Violet with blueberry meringue and a signature Hazelnut.
And for those who want to take away these special desserts or gift them, Yauatcha will pack them in custom-designed patisserie boxes, also designed by Manish Malhotra, marked with his signature design element – an embroidered gold motif.
The macaron are Rs 70 per piece (Rs 420 for a box of six) and the petit gateau are priced at Rs 300 per piece.