Hoppipola opens shop in Kolkata
Kolkata, Jan 29 (IBNS) Making its first foot print in the city of foodies, country's latest hang-out zone Hoppipola now rolls out its sumptuous fare for the Gen Next in Kolkata at the Acropolis Mall.
Tracing the era of bioscope-wallah who would frequent city alleys with their tool, the interiors of the food joint have a retro feel.
It has been designed keeping Kolkata in mind, that blends well with colourful, quirky new age features like toad stool seating, black board tables for scribbling, the light Mediterranean hued-wall with model aeroplanes suspended from the roof.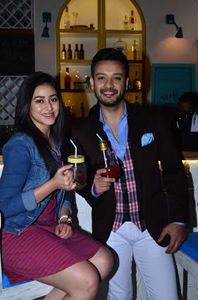 "We had waited a little to open our first outlet in Kolkata, the ninth in the country, since the first Hoppipola here needed to create a splash as the most happening and for this we chose a just opened mall in an upscale neighbourhood of south Kolkata. A Hoppipola can't just be opened at any place," a spokesman says.
On the platter will be Chiseled Prawn, Lamb Patty, The New Age Wing Man Chicken, E-toast and the innovative Shepherd's Pie while the foodie can experience combinations like Kaffir Lime and Lychees or Apple and Curry Leaves besides classic cocktails and the whacky Beer Pong and Beer Chuggathon.
Actor Saheb Bhattacharya, upbeat about the outlet now also setting shop in his city, says this is a perfect place to unwind for both the trendy and casual and the oh-so-formal and the food, drinks and decor compliment each other. "Lots of my friends are sure to hit this place as we missed Hoppipola on return from other metros," Saheb says.
Nods actress Ridhima Ghosh: "Amazing place, it is. The food, ambience, everything."
Celebrity chef-restaurant entrepreneur and Managing Director of Speciality Restaurants Ltd., Anjan Chatterjee, says."We hope like our other brands it will also be an instant hit with the Kolkatan,"
The restaurant is open from
12:30 pm to 11 pm
and the food comfortably priced at Rs 950+taxes for meal for two (without drink).
Images by Avishek Mitra/IBNS