White for glamour
The colour white is not necessarily prim and proper for the fashion scene. New age designers are making white an accessory colour to great effect, finds TWF correspondent Pramita Bose
Is white a hue with a wow appeal? Well, it's understated but fashion pundits vouch for its smartness, chic coolness and glam-quotient.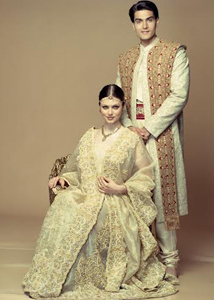 Many designers feel that this staid chrome has long been considered an all-weather colour and a vital ingredient to a la mode clothing. Irrespective of sweltering summers or chilly winters or bright springs, white is visibly increasing its presence in the fashion scene. In other words, it has a timeless appeal. It accentuates a dark backdrop and enhances a comparatively brighter hue, rightly playing a complementary role when paired up in parts or mix-matched with different colours.
"Both white and black have an eternally classic feel. White, of course, comes out well if judiciously combined with other colours. Again, it all depends on the way you treat the outfit you wear," says Cochin-based designer Jebin Johny.
Echoes fashion designer Ishita Mangal (of QUO fashion label fame): "White is definitely an all-season colour even in extreme climates, whether you fancy jazzing up your frame or adding that extra spice to your wardrobe. In winter, it's better to wear it in layers. A white leather jacket is definitely going to make its way into my wardrobe this cold season."
If any fashionista doubts about white's underlying sexiness and deprecates its value as a dull, faded tint, then he/she must think twice. "White even in its simplest form is the most refined, upmarket pick, anytime, anywhere. With the right dose of accessorisation, white can be erotic too! Never underestimate it as a pale option. " argues Mangal.
"Colours connote a different meaning to different people. When it comes to fashion, white certainly stands for sobriety, sophistication and endurance," endorses Mumbai-based designer Ritu Seksaria.
Jebin on the other hand, begs to differ in this context. "You don't wear white according to what the colour symbolises all the time, right? That existed years before; not anymore. Today, it has forayed into the fashion scene like never before," he says.
Epitomising peace, purity, subtlety et al, white carries a lot of weight to pull it off. "White has always been associated as a colour with a lot of poise and taste. It still looks very modish," observes Mangal.
When asked if white can brighten up the 'glam quotient', menswear designer Medhavini counters, "Why not? We have earlier seen it used in layering, draping and surface ornamentation. As for the menswear line, an achkan or a well-fitted linen blazer would go well with the white."
Seksaria tags white as "one of the key colours on a palette that serves as a blank canvas for the imagination to run wild. White can be teamed up with any cuts and textures. It's one colour which people of all races find comfortable to wear. Even a layman, who is not into fashion would know that a white shirt with blue denims can never go wrong. A white gown for the bride on her wedding day, a white sari for a reception, a slick white dress for a meeting are the perfect examples of how white can rule the roost."
Says Mangal, "White's strength is that it comes to the fore in myriad textures. For instance, threadwork, sequins or even laces of white still continue to inspire a lot of designers." For her, white for women can be worked out in a one piece dress or a gown paired with solid colour or metallic accessorization whereas for men, the classic white shirt with a suit or with jeans is still the most stylish outfit."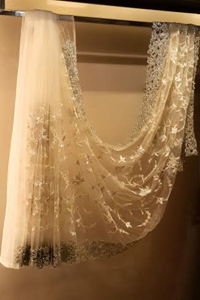 Jebin opts for maxi dresses, cropped tops, floor-length gowns, pencil skirts and pleated skirts to stack in whites galore into one's cupboard. "White can strike an instant impression both in casuals and as glad rags," he prescribes.
In the footwear section, Jebin recommends "dark colour wedges or shoes or printed wedges that I have used in my autumn-winter collection. For accessories, perhaps an ear cuff will do the needful. Too much, however, spoils the look."
It goes without saying that prints and motifs over a white base look striking. Like in Jebin's case, 'Katha Kabuki' prints worked wonders. "I have fused the classical Kathakali of Kerala with the Oriental dance drama of Kabuki. They look quite bold and artistic on a fabric with white background," he shares.
Often people get confused what to club with white in an apparel if the colour is unveiled on top or vice-versa. In a menswear ensemble, Medhavini suggests a "white casual linen shirt with beige pants and a sky blue linen blazer with a white shirt underneath it and a pair of white linen trousers to round off the get-up". Multi-tone prints and self-on-self prints are also the flavor of the season, she announces.
Seksaria pushes for gold and bright coloured chunky accessories to seamlessly align with white. "It is ubiquitous in nature and can be easily paired with every other colour," she says. In formal menswear segment, "a white shirt with black trousers will do the job, while as a traditional attire, white kurta with white pajamas are appropriate. Women can choose a white dress with a white blazer to look formal and a white sariwith gold jewellery to expose their traditional side," she suggests.