Meanswear: A dandy band
Slick fashion wears in both formal and casual segments catch the fancy of today's men who too unfailingly love to groom themselves and admire their mirror image. Pramita Bose reports on the latest trends
Going by the age-old metaphor, Men are from Mars, Women are from Venus, many may surmise that the two are naturally opposed to each other and must behave differently as per their gender-specific characteristics.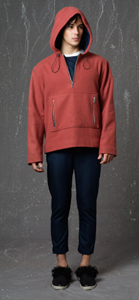 But this is not the case always as case studies suggest. For if you thought that shopping is purely a favourite feminine preoccupation, then think twice. Even men can shop till they drop and their rack-raids are not rigidly restricted to grabbing grocery items of daily utility from the shelves.
Slick fashion wears in both formal and casual segments too catch their fancy and grab attention to lend their wardrobes a much revamped look. From this tendency there also has emerged a herd of fops and dandies who unfailingly love to groom themselves and admire their mirror image at any slightest pretext.
"The concept of Indian men in love with his dressing table is nothing new. For even the good old rajas, Maharajas, their warriors and subjects would adorn themselves in gaudy garments and dazzling jewellery. The contemporary image of a suave, clean-shaven, metrosexual man is only an extension to this," elucidates Mumbai-based fashion designer Masumi Mewawalla.
"And adding more warpaint, colours and layers to further louden this get-up comes alive the modern-day 'peacock man', who is conspicuously concerned with his ruffled, feathery outfits and 'pancaked' appearances. He in fact never tires out of checking himself frequently on the transparent glass and don't be surprised even if he shows his narcissistic side. This new-age species is bold, stylish, young and mature," she says.
Jodhpuris, waist-coats, Nehru jackets with breeches, balloon trousers, Patiala pants and the constantly 'in-vogue' blazers will dominate the menswear line this season, predicts Masumi. As to the palette, she enlists blues, maroons and wines as the perfect pick, while fabrics like linen, silks and velvets remain the hot favourites, she declares.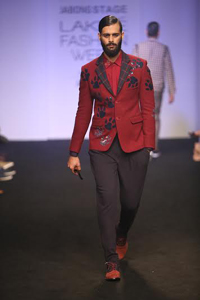 Unleashing such unmatched charms of men on the ramp are the ongoing fashion fests. Exuding glamour and chic sensuality, even men turn on the heat to be dapper and desirable!
Kolkata's eminent menswear exponent Sharbari Datta recently unveiled her sparkling wedding range along with a fusion line at the Kingfisher ULTRA Bengal Fashion Week. Models cavorting in unique colour-blends took the glittering evening to a crescendo with highlights of dark grey, silver, blue, red, beige and sandalwood in radiant splashes.
The graceful feline sashay in gorgeous finery subtly reminded the onlookers of the imminent festive fervour. Well-known for her ethnic touch, Datta derived her ideas from folk art, shlokas (religious chants), foliage, ancient allegories and poetry, intricately crafted with fine ariwork and kantha stitches. The result is a magical frame of traditional Bengal oozing out from every corner. The veteran draper meticulously played with fabrics such as pure silk, tussar and raw silk for her elegant collection.
Another menswear specialist Manish Bansal pegs his winter festive line with a quirky theme. His is a canine inspired collection and the motif is evident from his newly launched lookbook. Filled with sketches of bulldogs and snapshots of the hound-influenced male attires, the collection appears absolutely astounding.
"My plan was to showcase a whole new demeanour of the masculine squad via the tool of a powerful animal and its transition over time which attempts to portray the man of today in varying shades," he offers.
His offbeat endeavour has thereby redefined the British bulldog with a complete contradiction of its usual combative image. "I intended to endorse the tenacity and dynamic personality of a man," asserts the Lakmé Fashion Week participant who debuted this year with a view to reinventing and breaking the stereotypes in men's fashion fundas.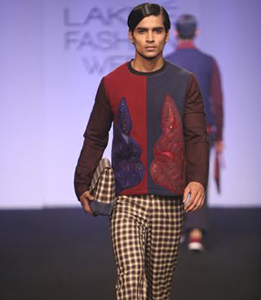 Talking of the Gen-Y, even Masumi echoes Manish's sentiments. She affirms that her collection "definitely targets the modern men as it renders a very edgy, sensitive look" to her sartorial line, typically reflecting the traits of an urban city-bred gentleman of the present times.
"Modern men are simple, sober yet sharp. They have a demanding disposition which is rightly accentuated with statement clothing," she notes. She chooses actor Ranbir Kapoor as her personal favourite to dress him up in "deep blue short Jodhpuri jacket and off-white silk Patiala pants with surely a pink pocket square" to spruce up with.
For ace menswear designer and the proprietor of brand 'SOL' (meaning sun in Latin) — Piyush Dedhia — an all-round versatility did the trick for his designs which spell out youthful spirit and power. "I essentially wanted to complement the rugged personality of Indian men through my winter-festive collection," he announces. The silhouettes ranged from Oxford shirts with harmonizing colour-pocket details to military jackets and colour-blocked shirts paired with striped blazers and ankle-length trousers. More inclined towards tailoring commercially viable costumes, the couturier stresses upon the affordability factor in his kitty.
"We have a wide price band that fits into almost all budgets and diverse income-groups. It's nothing like being upmarket exclusive or upscale-oriented. I want to reach out to a larger cross-section of the society with my creations," he wishes.
Bollywood megastar Amitabh Bachchan is his man of choice "because he is the living legend and I love his sense of style," he reasons.
Designer Dhruv Kapoor walks the line of flamboyance, confidence and a state of untamed freedom this fiscal in his bespoke collection for men. His menswear piece on the runway of late strutted down a knee-length charcoal coat over basic formals and was accessorised with an official bag. Another white scuba hooded jacket with leather facing was a great innovation for the men's formal stock. A riot of hues was poured in with a well-justified combo of navy blue and bottle green with the right amount of tarnish tints and burnt yellow.
"We maintain a niche clientele who are bold enough to pull off the clothes. See, we have deliberately kept our men slightly more submissive compared to our women as our garbs underscore the softer side of men and suppress their male ego. The collection is easy, sporty, handy and plucky in character," he volunteers.
A mix of oversize coats, jumpsuits and plate sweatshirts tagged as 'SNOB' governs his display array and the designer has decided to lay focus upon re-inventing the dinner pants in scuba fabric by giving it a more relaxed and a sporty aesthetic appeal. Since dark tinges continue to monopolize the palette, the designer consciously chooses blacks and bottle green with a hint of acid yellow, rust and pale blues to tally with the diktats in trend.