Aesthetics go for a toss?
Piddly si baatein is the latest entrant into a world of mainstream Hindi cinema where the toilet as a physical presence has stepped in almost as a character. The melodious number is belted out by Amitabh Bachchan in Shamitabh. Why was the song shot inside a toilet when it could have been shot anywhere? Some directors obviously have a different take on 'entertainment.' What do viewers feel? Shoma A. Chatterji finds out
With a radical change in dialogue in Hindi films generously indulging in the casual use of abuses, cuss words and words bordering on the vulgar and the obscene, innuendo and double entendre have become ancient history. Humour too, is not there to tickle your funny bones Almost every film shows men turning their back to their camera to take a pee, pull up their zippers and turn around. What aesthetic, realistic or entertaining purpose does it serve to show men peeing on screen almost as if it's mandatory?

"Toilet humour has become almost a fashion statement in films these days. Taking a pee is a very personal function. Showing this on screen is in bad taste. Showing a person taking a bath or a shower may still appear seductive but certainly not peeing. 3 Idiots and Shamitabh are illustrations in point. The piddly song is sweet with a catchy tune with big B's vocals but in a toilet for heavens sake! Please spare us this," feels film journalist Althea Phillips.
Noted satirist V. Gangadhar in Loo and Behold, (July 24, 2011, The Tribune) referring to Delhi Belly wrote: "Can toilet humour be justified? The film revolves around a hilarious goof-up where a stool sample was mistaken for a package of diamonds leading to all sorts of mix-ups. The situations were no doubt hilarious and Aamir Khan used this as an excuse to pack the film with never-ending toilet humour. Every character had to relieve himself with explosive violence, there was always no water in the toilets, men were on the run clutching their bellies. The soundtrack was kept busy with such noises. In the past, music directors and sound recordists were credited with instruments producing different types of noises, most of them melodious. Aamir Khan has set a new trend with his fart symphony. Will this catch on?"
It has caught on considering that even the great Bachchan does not think twice before barging into his political rival Boman Irani's toilet when he is actually in 'the act' in Bhootnath Returns! He betters himself in Shamitabh by sitting on a commode and belting a song which could have been shot anywhere. In a recent episode of Comedy Nights with Kapil as a promotional for Shamitabh, both Bachchan and Kapil did the entire show seated on fancy commodes! The price of commodes must have gone up after this show!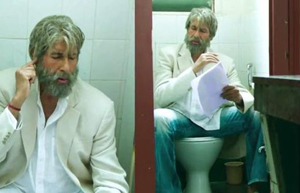 Says Supreeta Singh, associate director, Events and P.R., Park Hotel, Kolkata, "It would all depend on the audience watching the film, the context in which the toilet is used as an important prop and how the director perceives its use within a given scene or film. For example, a toilet in a physical sense or toilet humour in a more abstract sense may be liked by the Western audience but I doubt whether it will go down well with the Indian audience."
What function does a man seated on a commode achieve in terms of aesthetics, titillation, sensuality, humour and reality?
In Hawa Badal, a Bengali film with unmistakable resemblance to David Dobkin's The Change-up (2011), two urinating young friends discover that crossing the trajectory of their urination switches their personalities without changing their appearances. Despite the focus on peeing, Hawa Badal was a disaster.

Aesthetics often seems to take a back seat with an excuse for showing 'reality', for what it's worth. What kind of aesthetics is expressed when people vomit in front of the camera or women menstruate (Rituparno Ghosh in Antarmabal and Chokher Bali) in superfluous scenes the films could have well done without?

Shirin Farhad ki Toh Nikal Padi is filled with bra-panty-fart jokes which hardly evoke humour. Debutante director Bela Bhansali Sehgal took the excuse that her middle-aged hero (Boman Irani) was a salesman at a bra-and-panty shop! The film was a flop.

Says actor and social activist Bobby Chakraborty, "I have great reservations about needless crude and indecent representation on screen – big and small in the name of entertainment. This could be audio – use of abusive and filthy language, or visual – showing something indecent that the film could do without. Passing disrespectful comments or making indecent gestures on screen has no entertainment value. I have been a part of the television and film industry for 13 long years and I sincerely believe that entertainment can never be equated with indecency – oral or visual or both."
Recently, 14 well-known names from Bollywood got involved in a show called AIB Roast based entirely on insulting, humiliating and abusing some celebrities from the big screen who readily subjected themselves to abuse and insult on a public platform. A much-edited version of the show was taken off YouTube and FIR has been lodged against the people involved. The jury is still out on whether it has over-reaction to this format of humour.