Eating Out/Durga Puja
Durga Puja 2020: Eating out in Kolkata
Kolkata/IBNS: From buffets to mid-night meals, Kolkata restaurants and bars are offering a range of delectable food and drinks to get you out of the pandemic blues and enjoy Ma Durga's arrival with your family and friends, in a sanitised and hygienic environment.
However, do remember many restaurants recommend advance booking and are implementing contactless menu and payment.
In this first of our two part series, we bring you our list of favourite dining spots.
Kava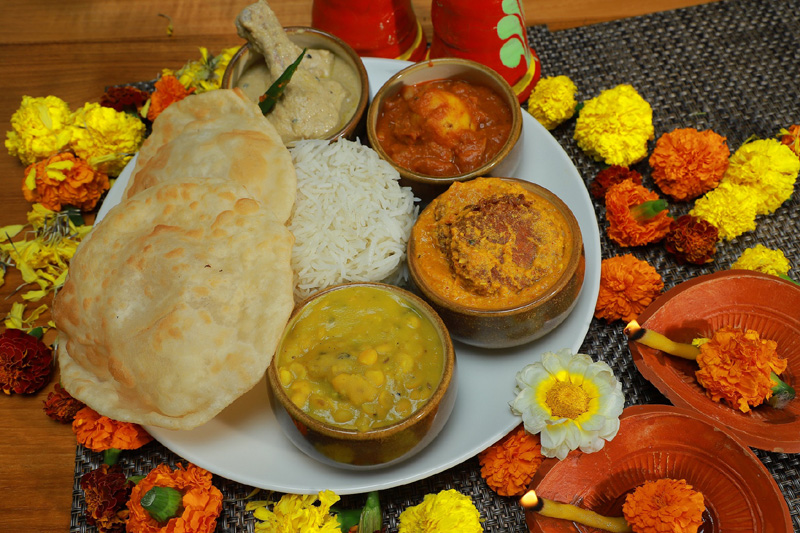 Traditional Bengali Platter at Kava, Fairfield by Marriott Kolkata
Part of Fairfield by Marriott Kolkata, this multi-cuisine restaurant will not only offer sumptuous festive spreads under its 'Bhuri-Bhoj' menu for lunch and dinner from October 22 to 26 but also a special mid-night spread for those who might want to tuck into a quick meal in between their night-long pandal hopping.
The festive spread will focus on quintessential Bengali cuisine along with some cosmopolitan Kolkata favourites. Highlights from the different sections include Aamer Chop, Echor er Chop, Mochar Chop, Narkol Posto Bora, Gondhoraj Fish Tikka, Dimer Devil, Mutton Cutlet, Murgir Chop, Chingri Cutlet, Chicken Kabiraji; Chanar Dalna, Dhokar Dalna, Aloo Posto, Shukto, Chorchori, Gobi Masala, Rohu Kaliya, Pabda Jhal, Mutton Rezala, Biriyani, 'Kosha mangsho, etc. There will also be a selection of desserts. Wallet factor: Lunch- Rs 1,199 plus taxes, dinner - Rs 1,299 plus taxes, and mid night- Rs 999 plus taxes. Tel: 033 6666 4444.

Royal China Lounge and Bar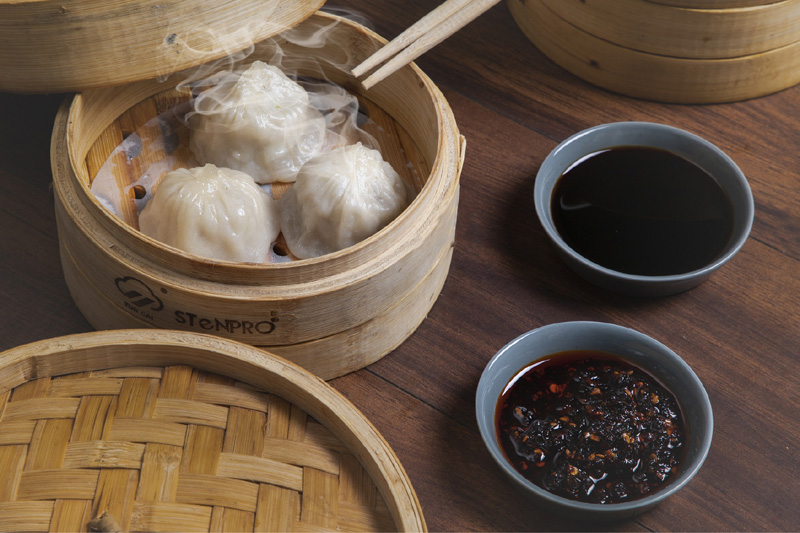 Royal China's Cantonese style Steamed Truffle and Pork Dumpling
Savour the delights of Cantonese cuisine at this relatively new lounge and bar in Forum Mall, which has already laid out its special menu for Durga Puja revelers.
Some of the must try dishes include Pan-fried Pomfret in Black Bean Sauce, Baked Chilean Sea Bass Honey Glazed, Baked Salmon Honey Glazed & Garlic, Steamed Truffle and Pork Dumpling and Steamed Shrimp and Pork Sui Mai. Whatever you do, do keep some place for their desserts, such as Tiramisu, Apple Pie, Toffee Walnut with Vanilla Icecream and Creme Brulee to name a few. Time: noon to 11.30pm; dine-in and delivery. Wallet factor: Rs 2,500 inclusive taxes (excluding alcohol). Ph: 8420085555.
The Fatty Bao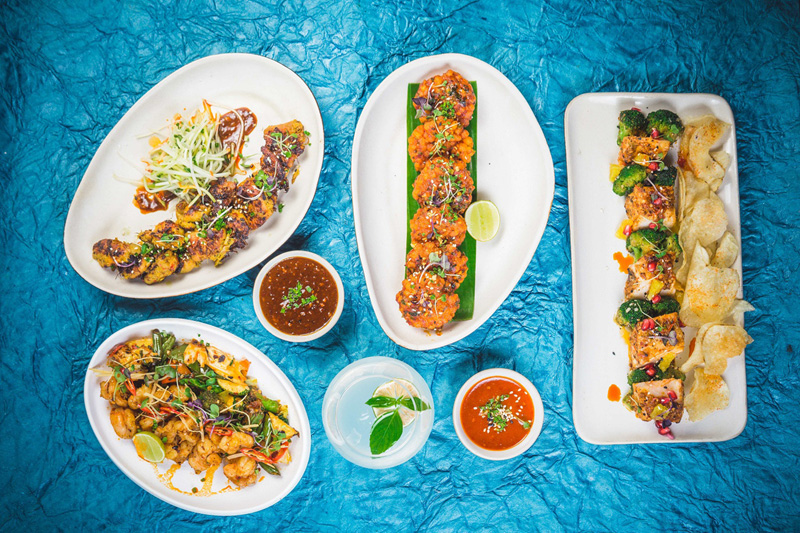 Caption: The Fatty Bao brings South Feast Asia to Kolkata
Replenish your taste buds with a sumptuous spread of Oriental street food here at The Fatty Bao's 'South Feast Asia – Durga Puja Specials' between October 19 and November 1.
The menu features specials from Thailand's Mekong River Thai Boat Noodles to Cireng Fritters from Sudirman Street in Bandung to Hot Steamed Fish from Guijie Street in Beijing, and Balinese Chicken from famed Jalan Alor Food Street in Kuala Lumpur and more. Time: noon to 11:30 pm; dine-in and delivery. Wallet Factor: Meal for Two without alcohol, excluding taxes Rs.1500 ++/ Meal for two including alcohol, excluding taxes Rs. 1900++.
Yautcha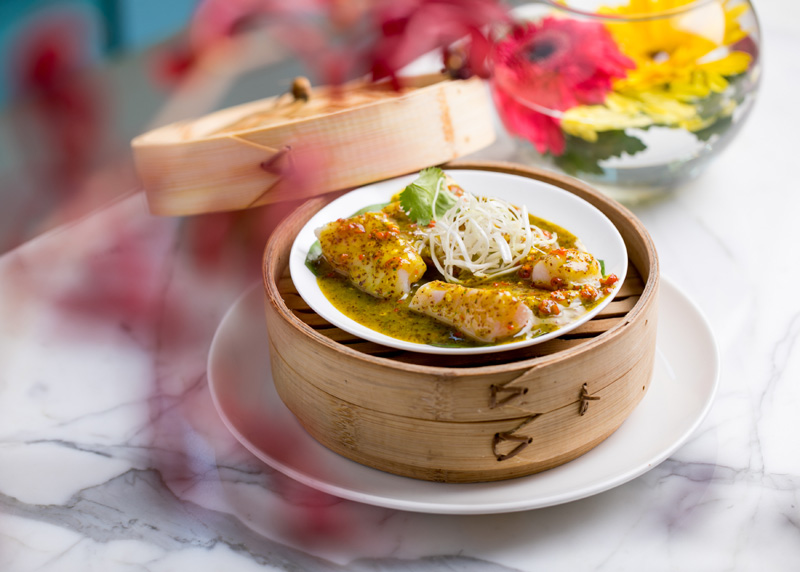 Yautcha goes experimental with Steamed spicy Betki with mango and Indian mustard sauce
This Chinese dim sum tea house has already introduced a festive a la carte menu consisting of an assorted range of dim sums, stir-fries, staples, and dessert, which will be available until November 15.
Don't miss their dim sums with a quirky touch, such as Prawn and Gondhoraj dumpling or the Banana blossom dumpling. Highlights from other sections include Cantonese style Stir-fried minced lamb with fried eggplant, Yang chow fried rice, Steamed spicy Bhetki, Fresh cream mousse, etc. Time: Noon to 10.30pm; dine-in and delivery. Wallet factor: Rs. 2000 ++ taxes. Ph: 9222222800.
Zobet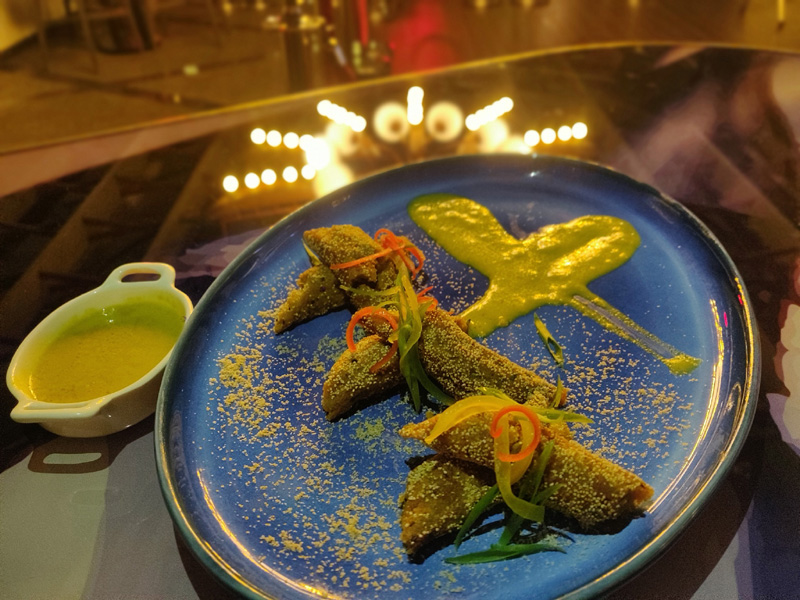 Aloo Posto Seekh , a quirky delight from Zobet
If you have not already tried Zobet's special fusion 'Puja Grandiose' menu, then do hurry because it is on till October 31 only.
Start off on a heady note with concoctions such as Malt Fermented Sangria, Wild Summer, Cuban Salty Smash, Sour Story or if you are looking for something non-alcoholic, there is Anis Ginger Cooler and Chatka Merry. The chefs too have gone to great lengths to present traditional Bengali dishes with a twist. Some of the must try include Aloo Posto Seekh, Sweet Potato Hummus, and Chingri Posto Paella. If you are not adventurous, they have you covered too, try Sorshe Ilish with Steam Rice. You cannot leave the table without trying some of their desserts, such as Chenna Jalebi South West or Sondesh Cheesecake. Time: Noon to midnight; dine-in and delivery. Wallet factor: Rs 1,100 + taxes (Without alcohol) Rs 2,100 + taxes (With alcohol). Ph: 9163911011.