Indo-Russian educational collaboration to boost Digital India initiative
Kolkata, Feb 27 (IBNS): To strengthen Bengal's presence in the Digital India initiative, JIS College of Engineering has planned to set up a centre for excellence in collaboration with four Russian universities.
The announcement was made recently in Kolkata.
The four collaborating Russian universities are Moscow Institute of Physics and Technology, National Research Nuclear University, Innopolis University and Russian New University.
The plan took off in November 2016 when JIS visited Russia as part of a delegation from The Bengal Chamber of Commerce & Industry (BCCI), which went to Russia to explore opportunities for Bengal.
"During our visit to Moscow, the Russian consulate told us that the model of our centre of excellence is unique and we from Bengal can become a role model for the rest of the country when it comes to taking Russian help for yielding societal benefit through an education initiative," said Taranjit Singh, Managing Director of JIS Group Educational Initiatives and Chancellor of JIS University,
Sila Singh Ghosh, Vice President of Corporate Communication, JIS group said that the Centre of Excellence would screen students based on their innovative ideas and later, both JIS and the Russian partners, would finance and send students to pursue higher studies in Russia with full scholarship from their universities.
Keeping in line with the Digital India mission, the JIS Group organised a two day 'International Symposium on Gen Next Initiative for Digital India". It was attended by a 16-member delegation from Russian universities.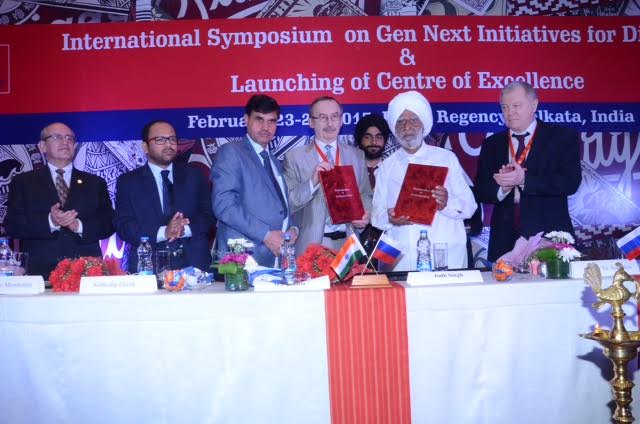 Subhodip Ghosh, Director General, BCC&I, said, "The motto of the symposium basically is the power to empower."
It was also announced that JIS has entered into a collaboration with The University of Bedfordshire, United Kingdom (UK) where the UK university will offer joint degrees and student exchange programmes.
So that a large number of students can get access to their courses, JIS group has decided to take its courses online through the Ministry of Human Resource Development and the AICTE portal: SWAYAM.
The curriculum will be designed by Manpreet Singh Manna, Director of AICTE.
According to JIS, some of the advantages of the online courses will be cost free access, skill training, accessibility with lower bandwidth, user friendly, accessible in 10 different languages and supervised by the Microsoft Dot Net technology.
(Reporting by Shilpa Salwan)