Music take centre-stage as Muralidhar Girls' College concludes Platinum celebration
Kolkata, Dec 26 (IBNS) One of the pioneers in women education in Kolkata, Muralidhar Girls' College celebrated closing ceremony of year long Platinum Jubilee events on Monday, with a colourful cultural programme.
The collage, after starting its operations in 1940 is sincerely engaged to spread the light of education to fulfil their social commitment.
The jubilee celebrations concluded with a programme at Ahindra Mancha, a popular event destination in the 'City of Joy'. The event was attended by State Minister for Public Health Subrata Mukherjee, Sobhandeb Chattopadhyay, MLA and President of the college, Kinjalkini Biswas, the Principal and Jayanta Mitra, Advocate General of the state and ex-President of the college. Other dignitaries included Amara Mitra, Litterateur, and Jagadindra Mohan Mondal, Educationist.
Mukherjee spoke about the need for a 'value based' women education in India, while Mitra relived the old moments, sharing anecdotes about his tenure as president.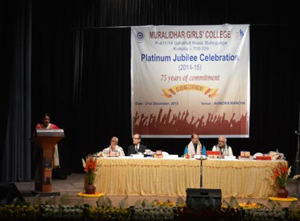 A Mohiniattyam dance performance by Ivy Saha enthralled the audience which included Gurubandana, Kirtanam, Jatisswaranam and Mangalam.
Performance by the students was enjoyable with song by Ahona Banerjee followed by song and dance by Ahona Banerjee, Sayani Sarkar, Mahananda Ghosh, Baisakhi Chakraborty.
Recitation by Pradip Halder, Non-Teaching staff, impressed the audience. At the end Rongili Biswas, daughter of the legendary singer-composer Hemango Biswas, mesmerised everyone with her presentation of 'Hemango Biswas o Lokgeeti', a collection of folk music and song.