Globsyn Evening will address the story of this generation of India: Bikram Dasgupta
With corporate officials in Kolkata gearing up to attend 'An Evening with Globsyn' and the Globsyn Annual Lecture Series 2015 this month, IBNS correspondent Supriyo Hazra chats with Bikram Dasgupta, founder and Executive Chairman of the Globsyn Group, on its annual signature event. He spoke about his vision behind hosting it every year in the city: Excerpts:
When did you start this lecture series?

I started this lecture series five or six years ago.

What is your objective behind hosting such an important lecture series in Kolkata?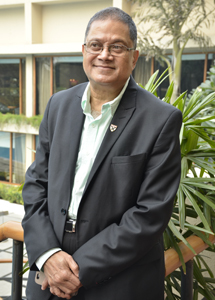 To answer that, I have to give a bit of background first. Right from the beginning, Globsyn Business School was planned as a different kind of a business school. We are not academicians running an institute. We are industry professionals who have invested into building and creating an academic institution. Since our basic requirements come from the industry, we wanted to run an academic institution which would be focused to meet the needs of the industry. Taking that idea forward, now we have a proper academic institution run by the industry people. Few people have made such a move, as an academic institution has a much longer payback period.

Moreover, we are more concerned with what would happen to our students after they graduate from our institute. In a typical academic institution, the thinking, the planning is related only to the period of study at the institution. We think beyond the period of study to the time when a student has passed out from our school. That is the area where we focus. In that exercise, people who provide jobs to our students become more important to us. We do not have a placement cell or a placement officer, but we do have a dedicated department called the "Corporate Relationship Programme Team". Their job is to interface and build relationships with corporate organisations.

Go on...

When this team interfaces with corporate houses, they inform them that the Globsyn Business School has a pool of talented students for them to recruit. The corporate houses, on the other hand, approaches this department seeking good students. So, we felt the need to design this concept of Corporate Relationship Programme. We have a full team which works for 12 months, go to corporate houses, and talk to them about our school and students. They keep them informed about the times of the year when the recruitment is needed.

In fact, I started this entire event as a 'Thank You Dinner'. It was our way of saying 'thank you' to corporate houses for recruiting our students. Now, it has evolved and we call it 'An Evening with Globsyn'. During the course of this event, I usually speak about what we have done through the year. This way the corporate houses learn about our School's activities and achievements. We want to involve them, engage with them and have them become stakeholders of our organization.

A few years back, I felt that we were not adding sufficient value to the Evening. We are an extremely value-driven organization, and I kept on thinking about adding something to it. And thus the concept of the 'Globsyn Annual Lecture Series' took shape. My desire was to bring iconic figures on the stage. I wanted to invite eminent personalities whom one cannot hear regularly in Kolkata, such as N R Narayana Murthy and Sharu Rangnekar, both of whom have attended this event and delivered their lectures in the past. This year, we have Hemant Kanoria, Chairman and Managing Director, SREI Finance, and Chandra Sekhar Ghosh, Chairman and Managing Director, Bandhan Bank, who will be delivering their lectures.

How is this year's event going to be different from the earlier editions?

The uniqueness of this year's Globsyn Annual Lecture is that one can see both, Hemant Kanoria and Chandra Sekhar Ghosh. We normally have one speaker, but this time we are going to have two speakers. Both of them are eminent personalities doing exceptionally well in their own fields. We have created a format in which I will figure as the moderator, and will give an introduction of Globsyn. Our invited speakers will each speak for 15 minutes, which will be followed by a panel Q-and-A session. , We will then throw it open to the public for a few more questions. I think it will be a unique evening quite different from regular programmes.

What are the thoughts which occur in your mind before selecting speakers for this annual lecture?

Whenever I select a speaker, I always keep in mind that he should be a person who has been a great achiever, is a highly respected individual and has worked for the betterment of the society.

I feel that for the lecture this year, your role will be more important than simply being a moderator? Please, if you can, express your thoughts on the issue?

I do feel it's a big responsibility and want to take my role beyond just being the moderator for the evening. The subject for the lecture has been selected by me. The entire concept of 'Vision for Emerging India' and the issues related to youth are what we speak about quite regularly. So, as a moderator, I am definitely going to ask my invited speakers what they have specifically done as business leaders for the youth of this country. I think, we are going to have a discussion on issues related to the youth and the story of this generation.

Speaking on the lecture series, can you share with us any memorable moment during the past five to six years that you really cherish and keep close to your heart?

I do remember that N R Narayana Murthy made me blush! When he went up on stage to deliver his lecture, he started his speech by introducing me! He said, "I don't know how many in Bengal know Mr. Bikram Dasgupta, he is one of the founders of the Indian IT industry." I really feel that people know very little about me in Kolkata. It is a fact of life. I have no regrets about it. But, I felt both humbled and honoured when this was said by an eminent person like Mr. Murthy. He said that if Bikram and his team are thinking about taking people to the next level, then just imagine what amount of work Globsyn can do? It was indeed a memorable moment for me.

What response are you expecting for this year's event?

I can say that this event is our brand value, and we invest in it every year. An entire team is working hard for it. We have invited a lot of people to attend the Evening this year. Every year we generally have 250 to 300 people from the corporate world and this year, too, we can expect to see about the same number in attendance.