Gallery Sanskriti hosts exhibition of Ashoke Mullick, Nantu Behari Das' works
Kolkata, June 27 (IBNS): Showcasing their craftsmanship and elegance, Kolkata's popular art destination Gallery Sanskriti is holding an exhibition on the works of two artists- Ashoke Mullick and Nantu Behari Das-from Friday.
Speaking at the inauguration of the exhibition, Mullick said: "I am very happy that my new exhibition started here from today. I am expecting that art lovers will love and appreciate my works."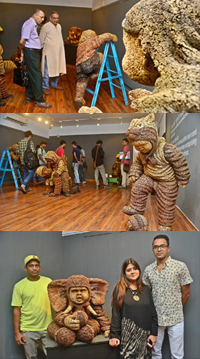 Mullick's experiments on canvas is portraying different shades of human lives in a series titled 'Black Comedy'.

His paintings focus strongly on the ordinary man and the contradictions he faces in the society.

Mullick said: "Black Comedy is a part of life which reflects the pain that every man hides within himself."

"I have tried to find the reason why society laughs at them while he confines something within himself," he said.

Through his sculptural works, Nantu Behari Das is expressing the dichotomy between humans and nature.

Das has juxtaposed the thought of tenderness with a medium as hard as metal, only to create the perfect illusion.

Das has used metal pins to create one his sculptures.

"I am also expecting that people will appreciate my works and more people will visit the gallery," he said.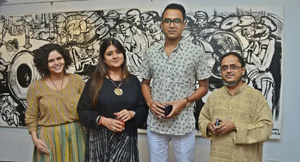 Painter Jogen Chowdhury visited the gallery and said: "This gallery is known for giving a strong platform to creative people. My association with the Gallery is very old and I really love visiting here."

The show will be on display till 18 July 2015, 12 - 8 pm daily except on Sundays.

The gallery is observing its silver anniversary year celebrations.


(Reporting by Supriyo Hazra, Images by Avishek Mitra/IBNS)