Ashoke Mullick, Nantu Behari Das come together for Gallery Sanskriti celebrations
Kolkata, June 20 (IBNS): Kolkata's popular art destination Gallery Sanskriti will hold its third exhibition as part of its silver anniversary year celebrations where works of two artists- Ashoke Mullick and Nantu Behari Das- will be showcased from June 26.
Ashoke Mullick's experiments on canvas will portray different shades of human lives in a series titled 'Black Comedy'.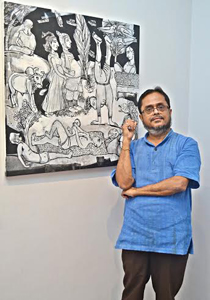 His paintings focus strongly on the ordinary man and the contradictions he faces in the society.
Speaking on his exhibition, Mullick said: "Black Comedy is a part of life which reflects the pain that every man hides within himself."
"I have tried to find the reason why society laughs at them while he confines something within himself," he said.
"In one of the paintings, I have used a peacock to show today's children and why they do not think about their parents. Sometimes, they feel about their parents but they are bound by the compulsions of their jobs to leave them," he said while describing one of his paintings.
Mullick said he has not seen paintings based on the theme of black comedy so far.
Speaking on the Gallery, Mullick said: "Ambica [Beri, director of Gallery Sanskriti] is a friend of mine and this gallery is not totally a professional venue. The friendly environment makes it a special venue."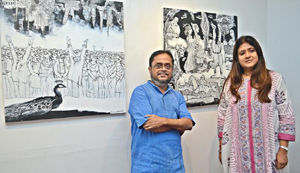 Speaking on his expectations from the exhibition, Mullick said: "I am expecting a lot from the exhibition. My drawings have been appreciated by several painters. I am feeling happy that people can see my drawings through this exhibition."
Through his sculptural works, Nantu Behari Das is expressing the dichotomy between humans and nature.
Das has juxtaposed the thought of tenderness with a medium as hard as metal, only to create the perfect illusion.
Using metal pins to create one of his sculptures, Das said: "Yes, I have tried to create a soft creation like a baby by using metal pins."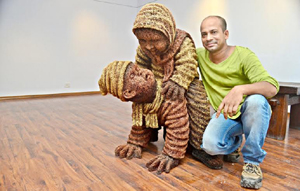 Speaking on the exhibition, Gallery Sanskriti's director Ambica Beri said: " This is a very important year for our gallery. Regarding this exhibition, I will like to say that we are not thinking much about the commercial aspects and sales and we are giving these artists a platform to express themselves."
The show will be on display till 18 July 2015, 12 - 8 pm daily except on Sundays.
(Reporting by Supriyo Hazra, Images by Avishek Mitra/IBNS)