Monica Shie
Tagore introduced me to the beating heart of Bengal: Monica Shie
Monica Shie bids goodbye to Kolkata after her two-year-long stint in the City of Joy as the Director of American Center and as the Public Affairs Officer, U.S. Consulate General Kolkata. Ahead of her departure she shares with IBNS the experience and excitement of her time in the eastern metropolis
So how long was your stay in Kolkata what was your main work?
I have lived here for two years, along with my 15-year-old daughter and—for most of the pandemic—my 89-year-old mother. We were residents, and we spent time as residents do, stopping by tea stalls for cha in clay mugs, meandering through the city's markets, visiting friends and chatting. I was here for work, so I did a good amount of that as well. I was the American Center Director and Consul for Public Affairs at the U.S. Consulate Kolkata, where I oversaw press relations, cultural affairs, and educational activities that promote a greater mutual understanding between India and the United States. I worked with an impressive group of talented staff and partners, and I loved my job.
How do you like Kolkata?
I knew that I needed to return to Kolkata after visiting in 2012. When the opportunity came to serve at the U.S. Consulate here, I saw it as a dream job. Kolkata is known for its history and culture, and both of those attracted me to the city. But Kolkata is not flamboyant. I often tell newcomers that you have to gently scratch the surface of the city, and it will bloom, revealing its cultural richness—much like the trees that grow skyward from crumbling architecture (a feature of the city that I love and will miss). I am an Ohioan by birth but a New Yorker by choice, and I find that the characteristics I love most about New York can be found here in Cal as well. Specifically, I love the adda culture of tea and intellectual conversation about anything and everything. I love that almost everyone I meet is a poet or dancer or musician or artist—in addition to whatever day job they hold. People are open, gregarious, witty, and kind. It is my kind of place.
Where did you shop?
Many people have asked me this question, and I think it is because they assume that I eat exotic, foreign foods. I suspect that they are disappointed when I say that I shop at the local market near my apartment. While it is true that I also go to Nature's Basket for peanut butter or chocolate, most of my groceries consist of rice, vegetables and spices. I eat local food. Having lived in seven different countries, I find that local food is always the best choice because it is fresh, inexpensive, and delicious. Some of my favorites in Bengal include potol, ilish (yes, even with the bones!), bhetki, himsagar mangoes, and of course phuchka. My favorite Bengali sweet is nolen gurer sonesh. And I love homemade mustard!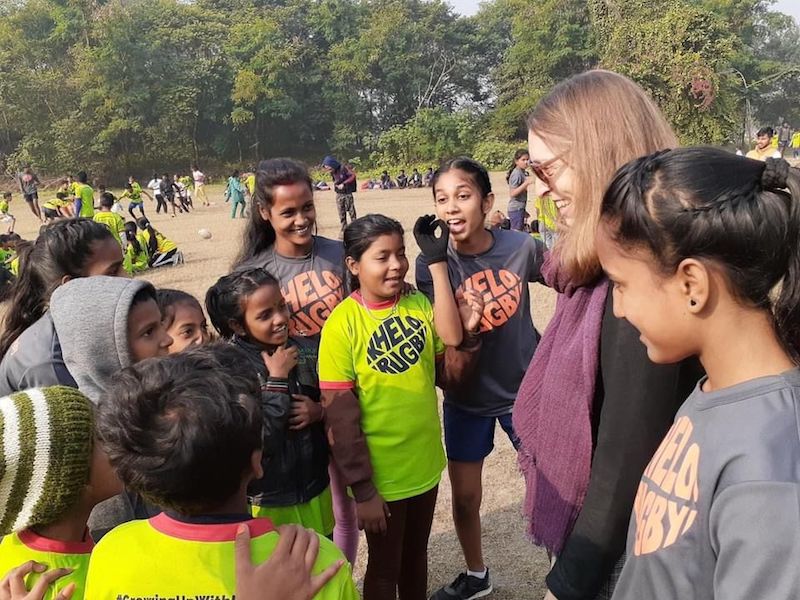 How do you cope with the heat?
Sometimes, people ask me this question when I am wearing a sweater and a scarf and am literally shivering from an over-abundance of air-conditioning. There seems to be an assumption that foreigners must enjoy cold weather because some of us come from countries that have cold winters. But my experience has been that this is an individual preference. Many Indians tell me that they seriously dislike hot weather. On the other hand, I love the heat and humidity! High humidity gives my hair more volume, and I don't need to slather lotion on my skin every night. When it is hot, a ceiling fan provides relief without producing the CFCs and HFCs that contribute to ozone depletion. I especially appreciate the older buildings that feature high ceilings, shutters, cross ventilation, verandas, and lots of tree shade to keep out the heat.
Do you wear sarees?
I love sarees, and I envy women on the subcontinent who have this go-to garment at their disposal for any occasion. It is simple, elegant, and convenient (one size fits all). Everyone looks good in a saree, and I love the effortless way women here wear them—whether they are running errands or attending glamorous events. I began wearing sarees when I served at the U.S. Embassy in New Delhi ten years ago. Usually, I go to a salon for saree draping, but in a pinch my partner has draped my saree; he is meticulous and quite good at it. (A roomful of Bangladeshi Prothom Alo journalists were shocked to learn that an American had draped my saree when I attended an event with them a few years ago in New York.) Even as I prepare to leave Kolkata, I am still buying sarees. On a recent trip to Shantiniketan, I bought a handmade, naturally dyed saree made from Muga silk. I can't wait to wear it!
Do you know Rabindranath Tagore?
Please rest assured that I do. I began reading Tagore seven years ago, when I received my assignment to serve at the U.S. Embassy in Dhaka, Bangladesh. As diplomats, we receive regional training—and often language training as well—before we start a new posting. However, it was Tagore who really introduced me to the beating heart of Bengal. As a student of literature, I find that the best way to really understand a culture is to read its novels. I began with Ghare Baire (The Home and the World) and then moved on to Gora, gaining a more nuanced understanding of Indian nationalism. Tagore also taught me about Bengal's early modernist sensibilities in Chokher Bali (A Grain of Sand). In any language, the emotions of Gitanjali shine, and I have gone back to those poems again and again. Tagore's short stories have also stuck with me; recently, I've been thinking often aboutKabuliwala. And who can live in Dhaka and Kolkata without enjoying Rabindra Sangeet? My daughter, a cellist, learned to play Anandoloke Mongolaloka for a cultural event last year. When I'm back in New York, missing Cal, I'll ask her to play it.
Have you traveled outside of Kolkata?
The U.S. Consulate in Kolkata serves eleven states of India, and I traveled to several of them before the pandemic lockdown. Don't tell Delhi, but I think the eastern and northeastern states are the most interesting in India, with their ethnic diversity, abundant natural beauty, and personal warmth. I have traveled to Patna, Ranchi, Guwahati, Shillong, and Darjeeling. The silver lining of the pandemic is that I have taken advantage of more local travel too. On personal trips, I prefer heritage spaces. I recently stayed at the majestic Bari Kothi in Murshidabad and enjoyed wandering through the city's alleyways and nearby villages as much as visiting its historic buildings and mosques. My daughter and I also spent a wonderful weekend at Jhargram Palace, where we took hikes through the breathtakingly beautiful countryside and enjoyed fresh, organic local cuisine. But some of my most cherished memories will be discussions over tea on a monsoon afternoon at Nayana's Homestay in Shantinketan with friends I've met there—artists, potters, writers, entrepreneurs. Quintessential Bengali adda! I will miss it.