Surtarang
39th Surtarang discovers new singing talents as Sonu Nigam and Pankaj Udhas add zest to the event
A global cultural programme, the "39th Surtarang" was organized by Sangam Kala Group with celebrated artists like Sonu Nigam and Pankaj Udhas participating in the event.
Where there is a will, there is a way. The Sangam art group has stood on this saying. The group is known for the biggest global singing talent hunt competition - Surtarang. Every year they organize this Global Singing Talent Hunt and find the best singing talent from the country.
Continuing the tradition, they haven't stopped discovering the singing talents of the country even in the pandemic. This time too, Sangam Kala Group organized the international programme "Suratrang". This programme was powered by LIC, in which a large number of children from all over the country and abroad gave auditions.
Global President of this program VSK Sood said: "Surtarang took place among junior (5-12), sub-junior (18-30), senior (above 30). This programme of Sangam Kala Group is historic because it was audited at the international level by any organization for the first time in the world. The finale of this audition took place on Sept 17. The programme was completely virtual on Facebook due to Corona."
The winners of Surtarang, run by LIC, are Shreya R, Shivansh, Moksha Gulati, Samridhi Tiwari, Athira Gopakumar, Gayatri Rajeev.
The executive members of the International, National, State, Regional, and Talent Clubs of Sangam Kala Group contributed to making this programme a success.
Sunil Rajoria, Rudraksha Seth Kulshrestha, Sanjay Pandey, Shiv Dwivedi, Nikhil Kapoor, Nanda Menon, Arun Nischal, Kshitij Mathur, Rajiv Sharma, Late Man Singh, and the well-known anchors of Sangam Kala Group, Priyanka Arora and Richa Bhatia attracted everyone towards them with their work.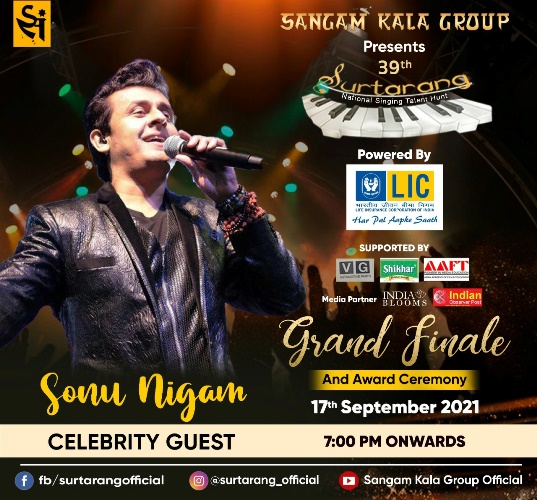 At the finale, renowned Bollywood music composers Hans Raj Hans, Sonu Nigam, Pankaj Udhas, Penaz Masani, Yuvi, Pamela Jain, Rupali Jagga, Ravindra Mishra were present as Chief Guest and Rummy Chhabra and R.P. Singh were present as Guests of Honor.
Organized by Sangam Kala Group, its LIC partners were VG Industry, Shikhar Group, Asian Academy of Film and Television (AAFT)- Pioneer in Media and Education. The Media Partners were India Blooms and Indian Observer Post.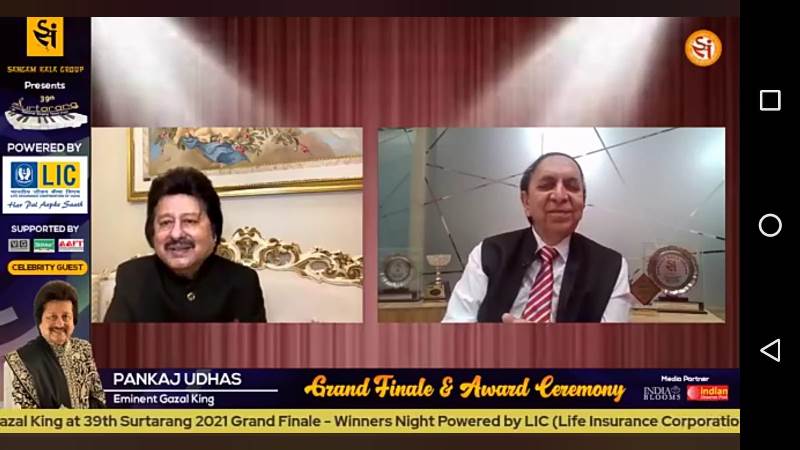 On this occasion, Pankaj Udhas said, "Today I am in front of you because of this organization. They started the work many years ago which was then shown on television as a reality show. Yes, the difference is that there is a lot of drama in reality shows, but here is the reality, here is truth, the notes are respected. I am thankful to you for calling me here. Thank you."
Sonu Nigam said, "Whoever follows music, we consider them as a family. Whether it is small, big, very famous or less; we all belong to the same family. My best wishes to the whole family. Thank you very much."