Music
Swarit Foundation follows all pandemic regulations for their live concert
Swarit Foundation's Smaran concert series back with on stage performances
New Delhi/IBNS: Delhi-based Swarit Foundation held the 12th edition of its concert series Smaran with live on-stage performances but maintaining all pandemic related safety protocols, including maintaining distance while seating the audience.
The concert is dedicated to the 'guru-shishya parampara' (teacher-student tradition) of Indian classical music and showcases young talented musicians from across the country.
Tabla maestro Ustad Akram Khan was the chief guest.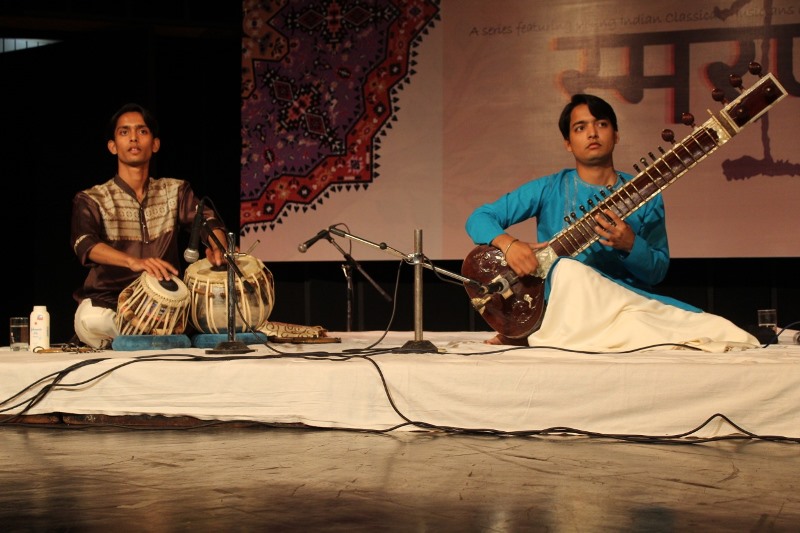 Mehtab Ali Niazi on Sarod with Khurram Ali Niazi on Tabla
The evenings programme included Mehtab Ali Niazi on sarod, accompanied by Khurram Ali Niazi on Tabla, and Hindustani vocal recital by Ujwal Nagar accompanied by Lalit Sisodiya on harmonium and Saptak Sharma on Tabla.
Ujwal Nagar presenting Hindustani vocal with Lalit Sisodia (Harmonium) and Saptak Sharma (Tabla)
The event was hosted by renowned broadcaster and media personality Sadhna Shrivastav.

Kshitij Mathur, Founder Chairperson, Swarit Foundation, said, "We not only focus on big names of the industry but we also provide a platform to new artists and to showcase their art. We also contribute to the society by creating awareness about social issues plaguing our nation."
Kshitij Mathur with Ustad Akram Khan
Last year, with the pandemic related lockdown hampering earnings across businesses, the Foundation had organized an online fundraiser to support needy instrument makers and musicians.