500 years old Assam's Bhaona performed on global stage in Dubai
Guwahati/IBNS: Almost 500 years after Saint-reformer Srimanta Sankardeva's creation 'Bhaona', Assam's mythological folk theatre has now entered into the global stage with an English avatar.
A creation of 16th century by Saint-reformer Srimanta Sankardeva, the 'Bhaona' was a form to convey religious messages to villagers through entertainment, primarily staged at 'Namghar' (places of worship) and 'Xatras' (Vaishnavite monasteries).
Some special features of 'Bhaona' include plays, dialogues, costumes, ornaments, entry and foot-steps of the characters and Assam's river island district Majuli is known for Vaishnavite culture and Bhaona.
50-year-old Arup Saikia – a resident of Jamugurihat in Assam's Sonitpur district and his two sisters Girimallika Saikia and Gitimallika Baidya have created a unique form of 'Bhaona' in the English language aiming to attract the global audience.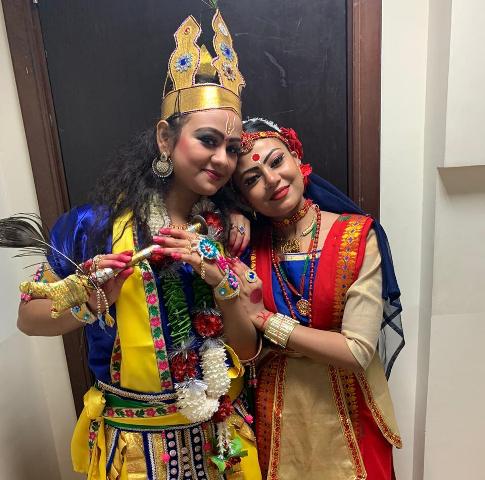 Recently, a team led by Arup Saikia performed 'Bhaona' in Dubai and highlighted the rich treasure of Assamese culture. It is first time that, Assam's Bhaona has been performed in English on a global stage.
"Bhaona is unique cultural tradition created by Saint Sankardeva about 500 years ago. But day by day, the popularity of Bhaona is diminishing. We are trying to preserve this unique culture of Assam by performing in English language other than Brajavali – the original language of Sankardeva. We are attempting to keep the theme of Bhaona intact by using the songs, tune, raag and taal of Bhaona," Arup Saikia said.

(By Hemanta Kumar Nath, Guwahati)