Arijit Dutta: A man of many hats
Arijit 'Dadul' Dutta, MD, Priya Entertainment Private Limited (PEPL) is a common name in the Bengali movie industry. He loves donning multiple hats- that of an actor and businessman and a patron of good cinema. Dutta opens up about about his plans to foray into the world of fashion and eco-tourism, in a candid talk with IBNS correspondent Sudipto Maity.
What have you done lately in terms of mordernising Priya Cinema, which is still a popular movie destination of Kolkata despite swanky cineplexes?
Say, we have put in the Dolby Atmos, the Dolby Stereo system. We already had the 2K projector. They are the two basic upgrades we have done recently. And if you talk about the building, we have added the underground Vault, which is the bar-cum-lounge-cum-disc, which adds on different facilities for customers.
Were you at any point of time scared of the so called uprising of the multiplexes in Kolkata?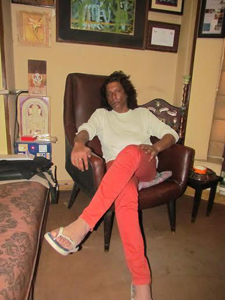 Never. Because I positioned myself right from the start differently. I positioned myself or positioned Priya, which is for Bengali films and we did a lot of activities in the past which created a very strong loyalty base for Priya. I would say that the way we focused in the genre of Bengali films, at least till now we haven't had anything to worry about.
Since you spoke about the loyalty factor, what do you think Priya owes its success to?
As I said, we had marketed and branded and positioned ourselves over the years, before plexes were even there. We did things which always brought us under focus. There were a lot of PR activity done by Priya. Yes, it was a very conscious effort. So it became a word of mouth across everybody. I still remember one time, we used to get a good number of audience coming all the way from Liluah to watch films here and because of the PR activities which took place and newspaper write-ups and television interviews, and the various activities like the children morning shows, which had gone out of vogue from Kolkata. These combined with the film premiers and of us taking over the distribution of Sony Pictures, Paramount and Walt Disney along with all the upgrades also added significant contributions.
Let's talk about Bioscope, your own multiplex chain. Now that you have 3 Bioscope in Bengal, do you plan to venture out?
See, we thought we would but as of now we have three and we have thought or are thinking about Jharkhand and Orissa (Odisha), but I won't put my bet on that as yet. In the way the film industry is going, because we have very lean periods which causes a stress, and running a multiplex is an expensive issue. It has come to such a level that unless you are a corporate which is using public money, it becomes very difficult to sustain. You have IPL coming in 'do mahina no picture', you have the Eid coming in, 'ek mahina before that no picture', the World Cup coming in, two months no picture. A multiplex requires a large number of films to run.
Is sports hurting entertainment?
Yes, it does without a doubt, as the producer would not like to release a film when the eyeballs are on a different sector of entertainment. And it is a mental block to an extent I agree, but also to an extent, they are right. See, when Saajan released, Priya was all four shows full. The Nehru Cup was on, India and Pakistan faced off at the Eden Gardens and we still ran house full. The problem is earlier the movies would release in limited halls, nowadays because of this massive release, the run is smaller, so one one wants to take the risk.


I heard you are venturing into eco-tourism…

Yeah, that's my interest because I have always been very fond of nature. In the younger days, being in St. Paul's, Darjeeling, we used to do a lot of trekking, camping, pioneer camps, Duke of Edinburgh Scheme. So that interest was always there. My eco-tourism is at a different level. I don't like the idea of a bungalow or logde or a resort. Mine will be more on the form of tents. Might be luxury tents, but more on tents, barbecues. Stay with nature, far away from human habitation, so that it gives you the feel that you are close to nature, and when you are on the tents, somehow you sleep differently. We have already seen some places in North Bengal and Purulia. We will probably start with Purulia. Once the agreement is reached, we will be starting it. There will be riding, trekking, fishing, animal watching, all the staffs put together, which is actually being close to nature.



A little birdie told me that you are foraying into the fashion industry as well…

That's something which I have started for the last one year, because somehow I have noticed that the East is not looked at very highly, the focus is not there on East as far as fashion is concerned. The fashion designers do not get that positioning nationally, that's why we said that when we have the designers this side, the Eastern, the North-Eastern states, along with Bangladesh, Bhutan and Nepal, we are trying to work out a platform. There will be one in March next year. It will be the biggest fashion show in the East, that have ever happened. We will be involving other countries, which has not happened before.



Mr. Dutta you are also a very keen sportsman. In retrospect, how much do you owe to sports?

I am. Being in a boarding school, we had to play all sports. That's one of the advantages of a boarding school product, you can play all sports. I used to play Cricket very seriously, at one time. After that, when I came to Jadavpur University, Kolkata was never very famous for Hockey, but because we were in the boarding school, I could play Hockey too. So I became a University Blue in Hockey. Subsequently, I also started doing rowing, and that's something which I did very well. I went to international level and I think I'm one of the very few people, who have won all the events in rowing, i.e. sculls, pairs, four's and eight's. As an interest, I have done equestrian sports. I am a reasonably good rifle or a pistol shooter. The only thing I was not very good at is swimming. I can swim, but I'm not comfortable with water.
Though I do rowing, I was never comfortable with water. I am more of a hill person. I owe a lot to sports. It gives you that strength to take the occasional blow and get back up. Also sports keep you away from petty politics and creates a broader outlook towards life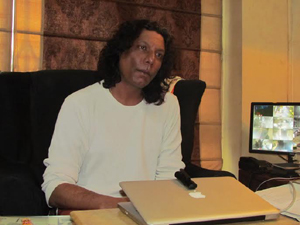 Is that the reason why you bought a team in the Bengal Celebrity League?
See, it was an offer which Jisshu (Sengupta) had given me, so I said why not. As Priya always used to have a tournament taking place every year, i.e. the Reds vs the Blues, which we used to organise. So now instead of doing that, the same thing we are doing, but on a bigger scale, involving a lot of other people. It should be good fun. It's a bonding for the industry, it synergises everyone. There was a gap, there is a perceptible, or let's say, believed in gap between the television and movie stars, that has a good scope of being breached.
Is Arijit Dutta too old to take up the Cricket bat again? Also tell us about your team.
Frankly speaking, last year I realised that my reactions have slowed down a little. So I'm still thinking should I be playing this year or not. I have not practised yet, because I really don't want to play this year. I prefer people telling me 'Why are you not playing dada' and I can say no I am going out rather than someone saying after a couple of years, 'don't play dada, you are blocking a place'.
Is it a dignified retirement?
Exactly. Apart from the supporting staff, my team has one more, we have a medical team. An ambulance along with a medical team will always be present when we are playing or practicing. I still don't know eighty percent members of the team, but slowly I'm starting to know them.



Do you have any plans of buying a professional sports team?

Not yet. Let's see how this one goes and tell me who are the people who are buying it, people with tonnes of surplus money, people who are only doing business. I also do a lot of other things, for example, the fashion event is out of passion. (Placing his hand over his heart/chest) I do things from here, I do things a bit differently.


How would you want people to remember you?

Just as Dadul da. Without being modest, I can say that I have a personality which people tend to remember, and I don't think except few anyone dislikes me. I would rather be known as a friend, as a person who has helped other people.



(Images by Subhodeep Sardar/IBNS)