Kolkata hosts K2K for Nepal
Kolkata, July 3 (IBNS) A mother and daughter duo, some socialites and influential people and a host of representatives from MNC's gathered at Hyatt Regency in Kolkata on Thursday to willfully participate in a fundraiser for the Nepal quake victims.
Kolkata to Kathmandu (K2K) is a city based effort of goodwill aimed to provide aid towards people, left devastated in the massive earthquake that jolted Nepal this year.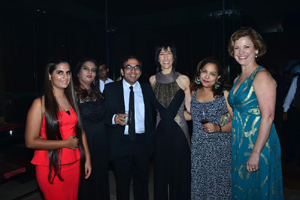 Photographers Nisha and Anaina Malik, the mother and daughter duo, have been clicking pictures of Nepal for a very long time and with disaster striking the country earlier this year they decided to auction 50 of the 2000 pictures clicked so far.
The Photography installation and auction aptly named, 'I Bow to the Buddha in You' served as a fundraiser as several celebrities placed their bid to procure these pictures for themselves.
Among the successful bidders were Namit Bajoria, Director, Kutchina, actress Rupa Ganguly and actor Arindam Sil.

Chandra Kumar Ghimire, Consul General of Nepal said, "Our forefathers have taught us to be patient in times of hardship. We have already received help from all corners of the world and I thank you all for gathering here to help Nepal."

Bajoria, who runs Bajoria Charitable Foundation, said, "We all tend to forget such incidents after a span of 6 months; hopefully this exhibition will help them remember it. I doubled my money knowing very well that Oxfam India will further double the total amount. We all want to contribute a bit more."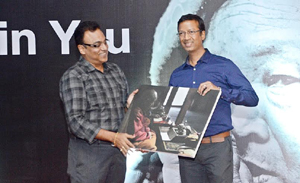 Britta Leick-Milde, General Manager- Hyatt Regency Kolkata said, "I am very excited to support this great event especially because Hyatt is present with a hotel in Kathmandu. A lot of help has reached out to the people in Nepal already but I am especially happy that the help is not stopping like for many other natural disasters. The people from Nepal still need support and will need more support over the coming months and years."

Nisha Malik, whose pictures were put up along with her daughter's said, "Namaste, I Bow to the Buddha in You. This is the philosophy that we have when we take our photos, because for us everybody is an embodiment of spirituality. This is an effort which was an emotion, which became an idea, a conversation between friends for the love of the country, for the love of giving."

Popular anchor and RJ Mir Afsar Ali, popularly known as Mir, in between hosting the event told IBNS: "Seeing this fact that two photographers, mother and daughter come together, literally give away a part of their work which they have been keeping for so many years for a cause such as this is very inspiring."

The evening generated a total amount of 1, 75,000 INR, the sum of which will be doubled by Oxfam India as promised by them.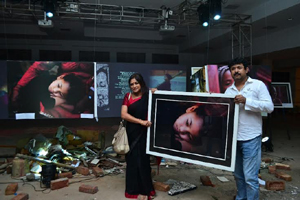 An earthquake with a magnitude of 7.2 on the Richter scale had shook Nepal this year on the month of August, killing 8792 people and leaving another 22,311 people injured. Several homes were destroyed permanently.

(Reporting By Sudipto Maity, Image by Avishek Mitra)