Kolkata: Starmark launches 'The Recession Groom'
Kolkata, June 30 (IBNS): Bookstore chain Starmark, in association with Leadstart Publishing, hosted the launch of the novel 'The Recession Groom' by writer Vani at its Quest Mall outlet on Monday.
Speaking on the occasion, journalist- turned- author Vani Kaushal said: "As a child, I loved reading but writing stories of my own never occurred to me. During my stay in London in the year 2008 to pursue an MBA degree from Kingston University, I had the opportunity to witness how recession affected the Western economies. I could feel the waves of recession, the journalist in me made me feel that this can be a perfect novel material."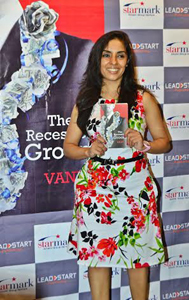 Discussing about the book, she said: "This novel is for a global audience. It is a contemporary story about the journey of a young Indian IT professional settled in Canada across the period of global credit crisis and the adventure he faces to find his perfect life partner. The story is rich in India culture. I took me about two and a half years to complete this book. Thereafter, it took me fourteen months to see this novel in print."
"I have started writing a sequel of this novel. There is a third one as well to wrap up the series" she added.
The book is available at all the Starmark outlets in India.
(Reporting by Adit Majumder, Images by Avishek Mitra)