Scripting history Chandrayaan 2 to land close to moon's south pole tonight
New Delhi, Sept 6 (IBNS): The highly popular and talked about mission of Indian Space Research Organisation (ISRO) will finally reach its crescendo with Chandrayaan 2 scheduled to soft land on the lunar surface at 1:55 am on Saturday.
With the success of the mission, India will create history by becoming the first nation to reach closest to the moon's south pole.
Prime Minister Narendra Modi will be present at the ISRO Headquarters at Bengaluru to witness the final descent of Chandrayaan 2 on to the Lunar South Pole.
The moon lander Vikram, which separated from its orbiting mothership, has already performed two manoeuvres.
The acts were done to lower the Chandrayaan 2's altitude for a perfect touchdown between 1:30 am and 2:30 am on Saturday.
ISRO in a statement said, "the lander Vikram is scheduled to powered descent between 0100 to 0200 hrs IST on September 07, 2019, which is then followed by touch down of Lander between 0130 to 0230 hrs IST."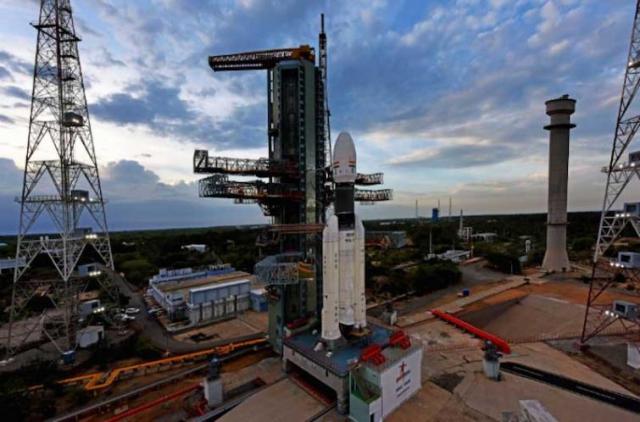 As a Prime Minister who has a deep appreciation of Science and its achievements, Modi's visit to ISRO would be a boost to the morale of the Indian Space Scientists and an inspiration to the young to develop an innovative mind and inquiring spirit.
Showing his personal interest in the Chandrayaan 2 Mission, Modi termed it as "Indian at heart, Indian in spirit! What would make every Indian overjoyed is the fact that is a fully indigenous mission."
Modi tweeted: "I am extremely excited to be at the ISRO Centre in Bengaluru to witness the extraordinary moment in the history of India's space programme. Youngsters from different states will also be present to watch those special moments! There would also be youngsters from Bhutan."
He said: "The youngsters with whom I will watch the special moments from the ISRO Centre in Bengaluru are those bright minds who won the ISRO Space Quiz on MyGov. The large scale participation in this Quiz showcases the interest of the youth in science and space. This is a great sign!"
Modi said he will is tracking updates about Chandrayaan 2 ever since July 22.
"I have been regularly and enthusiastically tracking all updates relating to Chandrayaan - 2 since it was launched on 22nd July 2019. This Mission manifests the best of Indian talent and spirit of tenacity. Its success will benefit crores of Indians," he said.
Modi said: " urge you all to watch the special moments of Chandrayaan - 2 descending on to the Lunar South Pole! Do share your photos on social media. I will re-tweet some of them too."
The region where the Chandrayaan 2 will soft-land is little explored till date as most lunar landings have taken place in the northern hemisphere or in the equatorial region.
This will make India the fourth nation to achieve soft-landing on the lunar surface after US, Russia and China.
The lander Vikram and rover Pragyan's lifespan is 14 days.
The Chandrayaan 2 orbiter's lifespan is estimated at one year, but it may keep working longer, ISRO stated.