Body weight maintenance: A key to fighting COVID 19
"He who cures a disease may be the skill-fullest, but he that prevents it is the safest physician" - Thomas Fuller
Amidst the worldwide fright of the pandemic COVID 19, mounting evidences are coming from research laboratories that prove obese people with little or no physical exercise are at the greatest risk for developing COVID 19 and being affected worst by its symptoms.
Both under nutrition and over nutrition is linked to a worse prognosis of the viral infection as seen in "Spanish" influenza pandemic of 1918.
It is reported that the outcome is fatal for Covid-19 patients with co morbid conditions. Among those co morbidities the highest fatality rate was found for cardiovascular disease (CVD) (10.5%) and diabetes mellitus (7.3%), followed by chronic respiratory diseases (6.3%), hypertension (6.0%) and cancer (5.6%).
Article published in Nature Reviews Endocrinology reported that in China, where the outbreak began, among 383 patients with COVID-19 admitted to city hospital overweight was associated with an 86% higher, and obesity with a 142% higher, risk of developing severe pneumonia compared with patients of normal weight.
Academic health system of New York City observed BMI> 40kg/m2 was the second major risk factor for hospitalization after age.
Report from the university hospital in Lille, France, said patients with Body Mass Index (BMI) greater than 35kg/m2 are more likely to require invasive mechanical ventilation than BMI <25kg/m2.
Study in Seattle, USA, made the similar findings and also noted 62% of the patients with obesity died of COVID-19, compared with 36% of those without obesity.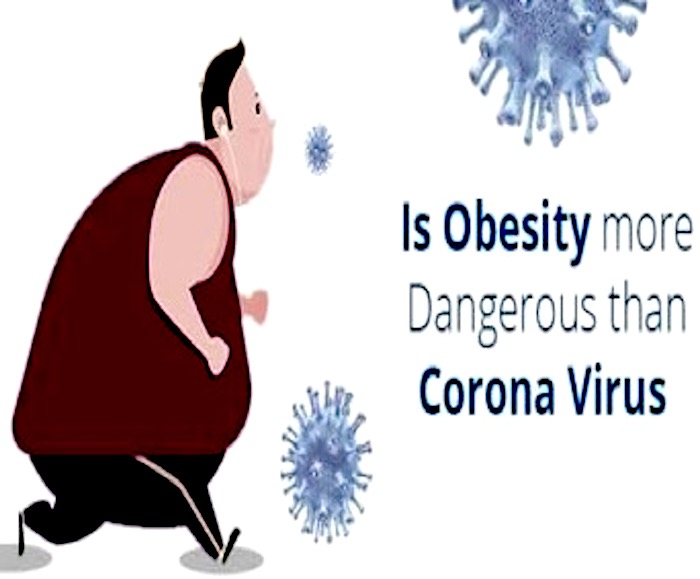 Image: Now what is obesity?? It is a medical condition that results from excessive accumulation of fat that presents a risk to health. The most common and easy way to check whether you're obese or not is to calculate your Body Mass Index [BMI: weight (kg.) / Height (m2)].
Why are obese patients potentially more contagious than lean subjects?
The obese subjects in comparison to lean subjects potentially shed the virus for a 104% longer period of time. The delayed synthesis of interferons, the main weapon to fight against virus in obese microenvironment allows more viral replication and multiplication. Higher BMI correlates positively with infectious virus in exhaled breath.
Why obesity kills?
Fat cells (adipocytes) in obese individuals cause excessive secretion of some molecules (adipocytokines) that promote inflammation on one hand and lowers secretion of anti-inflammatory hormone, adiponectin on the other hand.
The unbalanced hormonal levels disturbs the innate and the adaptive immune system. Several other causative factors of inflammation (TNF-a, MCP-1, IL-6 and C reactive proteins) are released by fat tissue that progressively cause defective innate immunity.
Chronic systemic inflammation in obese individuals reduce macrophages inactivation, considered as the main corp of our immune system.
Also the fighters of immune system B and T cell of blood are paralysed in obese and obese-diabetic patients, and this causes an increased susceptibility and a delay of resolution of the viral infection. In addition the vaccination success is also found to be poor in obese individuals.
Researchers have shown an increase in viral replication in normal bronchial epithelial cells derived from obese individuals due to delay and lack of interferon synthesis. Zhang and his group reported that insulin and leptin resistance in obesity and diabetes was a co-factor for (H1N1) pandemic influenza and likely to do so in COVID 19.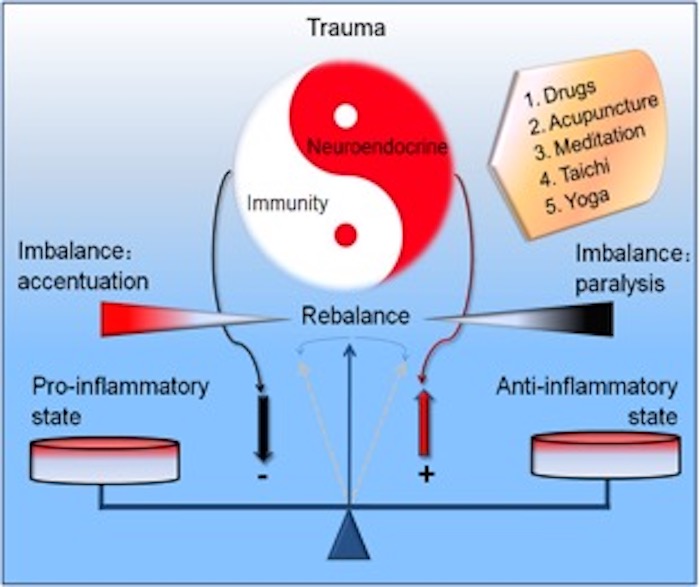 Image: Food is essential component to rebalance the immunity
Level of Leptin, a hormone, has been shown to increase during infections and both acute and chronic inflammatory processes supporting a role for this hormone-cytokine in regulating inflammatory and immune response and in host defence pathways.
Though more studies are required in this field to reduce the risk of developing COVID 19 illness among obese, still practices of healthy living like proper food habits, increased intake of fruits and vegetables, avoidance of simple sugar and junk foods and obviously increased physical activity level by doing some light exercise, brisk walking or simply by doing domestic work are the effective ways to lessen the risk of developing COVID-19 illness.
Hence it seems that during this 'lockdown' situation the most challenging part is to staying home without gaining body weight.

(About the writers: Chaitali Bose PhD scholar, Burdwan University; Pubali Dhar, Associate Professor, Head of the Dept., Dept. of Home Science, University of Calcutta)