Image: twitter.com/NOAA
Storm Nate: At least 22 killed in Honduras, Costa Rica and Nicaragua
San Jose, Oct 6 (IBNS): At least 22 people have been reportedly killed by Storm Nate, which pummelled parts of Nicaragua, Costa Rica and Honduras, media reports said.
Another 20 people have been reported missing in Central America, where a state of emergency has been declared.
The storm also inundated several parts of the affected countries.
Costa Rica has been worst hit by the calamity, where at least 400,000 people are living without running waters, with thousands sleeping in shelters.
According to reports, 11 people died in Nicaragua, while eight were killed in Costa Rica.
Honduras recorded three deaths.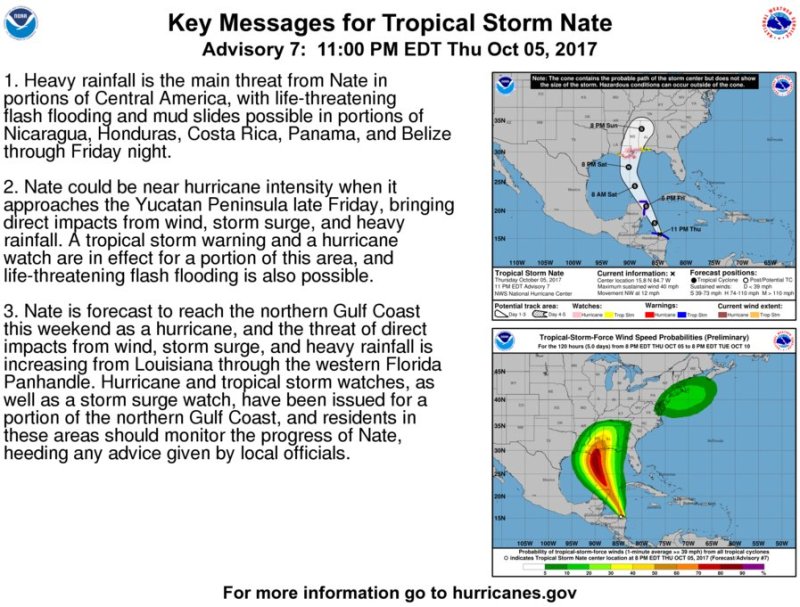 In El Salvador, a man was killed during a mudslide, emergency services reported.
Nicaraguan vice-president Rosario Murillo advised people to stay indoors.
"Sometimes we think we can cross a river and the hardest thing to understand is that we must wait. It's better to be late than not to get there at all," he said on state radio.
The storm is expected to move towards US' Florida, which is still recovering from the battering it received from Hurricane Harvey, a month ago.

Images: twitter.com/NOAA