Mexico earthquake: Death toll rises to 61, flags to fly at half mast
India Blooms News Service | @indiablooms | 09 Sep 2017
Mexico City, Sep 9 (IBNS): The strong 8.2 magnitude earthquake which struck Mexico on Thursday has killed at least 61 people, reports said.
Earlier the death toll was reported at 21.
Mexican President Enrique Peña Nieto has declared a day of mourning, saying flags would fly at half mast.
The President said at least 45 people died in Oaxaca, 12 in Chiapas and four in Tabasco.
He added that around 200 others were wounded.
The earthquake is the strongest to hit the nation in a century.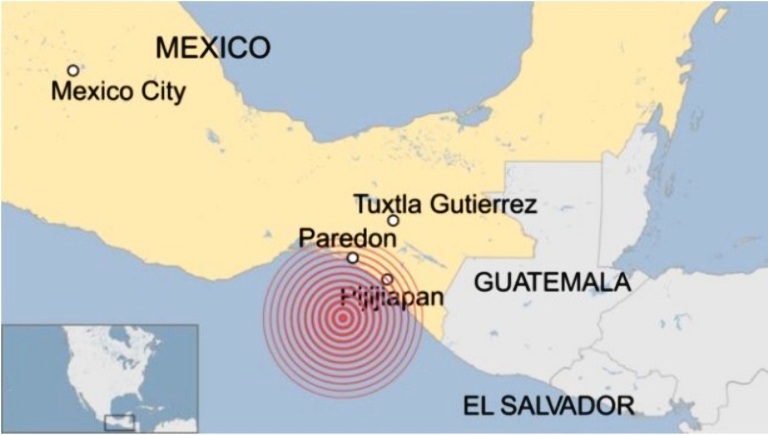 The toll is expected to rise as rescue workers said they fear more people are trapped under rubble.
One of the worst hit area was Juchitán, in Oaxaca, where at least 17 people died.
Speaking about the crisis, Mayor Gloria Sanchez said, "The situation is Juchitán is critical; this is the most terrible moment in its history."
The Mexican President visited the town on Friday.
Meanwhile, a tsunami warning was issued, forcing the evacuation of thousands in and around Chiapas.
However, the warning was lifted later.
According to the the BBC, Pope Francis, who's visiting Colombia, condoled the loss and said in an open air mass that he was praying "for those who have lost their lives and their families".
A similar quake in 1985 killed thousands of people in Mexico, however, the impact of the latest one is said to be greater.
Experts opined that the death toll was lesser as the quake struck less populated cities.
In Guatemala, where the quake too wreaked havoc, at least one person was reported dead.
Images: @EPN/Twitter
@CRGuatemalteca/Twitter
Screengrab from BBC
Mexico earthquake: Death toll rises to 61, flags to fly at half mast
India Blooms News Service
Post your comment: