Teams from Kolkata, Jamshedpur top zone, to compete in national finals of 'Tata Crucible Corporate Quiz 2017'
Kolkata, Oct 11 (IBNS): Capgemini, Kolkata -- represented by Sethu Madhavan and Rabi Sankar Saha -- and Bokaro Steel -- represented by Subhasish Wilfred Kispotta and Anand Raj -- were declared the top two teams at the Kolkata Zonal (Zone 2) Finals of Tata Crucible Corporate Quiz 2017.
They will now compete with top two teams of the other three zones in the national finals, scheduled to be held in Mumbai on Oct 15, 2017.
The regional winners from seven cities, represented by: Tata Sky- Raipur, Separis Info- Guwahati, Vizag Steel- Vizag, NTPC- Bhubaneswar, competed in the Kolkata zonal final.
Congratulating the zonal winners, Chief Guest Vinaya Varma, CEO, mJunction Services Limited said, "Knowledge sharing through quizzes is ingrained in the people from eastern India and quizzes are part of many cultural programmes here. They have an edge when it comes to the game as quizzing is practiced from a very early stage of life."
The Tata Crucible Corporate Quiz 2017 format is based on the concept of 'Real Time Strategy' with an aim to create a simulation of the fast-paced environment, that the corporate world often operates in.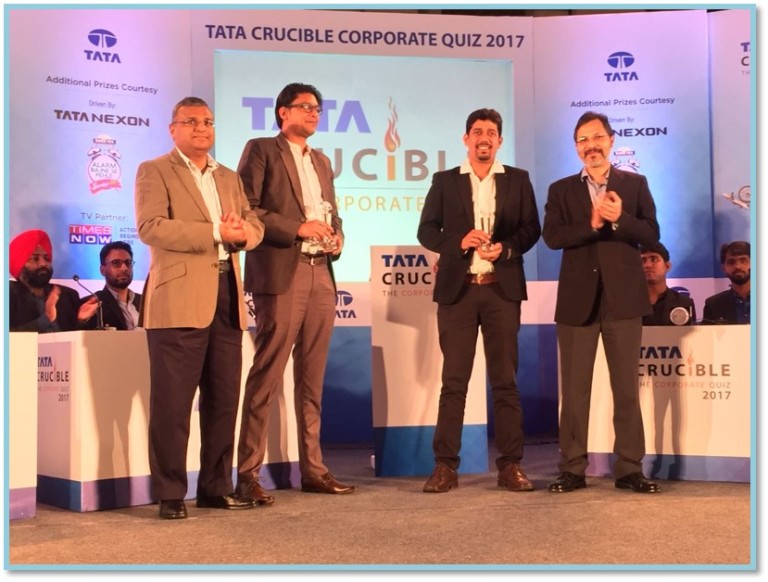 The format included contemporary gaming concepts, where decision making and strategy are key to winning the title.
Quizmaster Giri Balasubramaniam, popularly known as 'Pickbrain', brought to life the competition in his unique and quirky style of quizzing.
The Kolkata Regional Finals preceded the Zonal Finals where Sethu Madhavan and Rabhi Sankar Saha from Capgemini were the Kolkata Regional winners while the runners-up were Debasish Mukherjee and Abhishek Kar from mJunction.
Others who competed in the Regional Finals were Anirvan B. and Samrat Banerjee from HSBC, Anand Kumar and Prosenjit Mitra from DSP-Durgapur, Rajeev B. and Abhishek C from Capgemini, Abhishek Das and Sudip Kalyan De from TCS.
The National winners of Tata Crucible Corporate Quiz 2017 will receive a prize money of Rs 5 lakhs along with the Tata Crucible Trophy.
The prizes for this year's quiz are supported by Tata Motors and the Jaago Re campaign by Tata Global Beverages.

Tata Crucible introduces Hackathon

Tata Crucible broadened its horizon this year and added another platform to its fold, namely the 'Tata Crucible Hackathon'.
With Group Technology and Innovation Office of the Tata group as the content partner, the Tata Crucible Hackathon invited full-time working professionals from any organisation, to come up with ideas to solve the most intriguing challenges ranging from industrial processes to road safety related issues.
Commenting on the launch of Tata Crucible Hackathon, Atul Agrawal, Senior Vice President, Corporate Affairs, Tata Services, said, "Pioneering with innovation is a driving force within the Tata group. For years, the Tata group has been pushing the boundaries with its innovative solutions for problems cutting across sectors. We are delighted to add the platform of Tata Crucible Hackathon which will challenge talented professionals to come up with out-of-the-box solutions for the identified challenges and look forward to exciting ideas."
The winners of Tata Crucible Hackathon from Kolkata were Mukesh Kumar and Vijay Anand from Team Conviction of Tata Steel.
They received a cash prize of Rs. 40,000 for the most viable solution presented for the challenge - The Heat Energy Recycling: How to utilize heat energy wasted in industries by MC Thomas, Executive In Charge of Ferro Alloys and Minerals Business Unit of Tata Steel Ltd and Prof Chandradeep Mitra, Advisor & Mentor, IIM Calcutta Innovation Park.
Team Conviction presented a solution based on harvesting waste heat using efficient thermoelectric generator.
The Tata Crucible Hackathon consisted of two phases.
The preliminary round was an online submission round where registered teams were required to submit their solution(s) for the identified challenges.
For the preliminary round, teams could contribute to all four challenges but each team could submit only one solution per challenge.
The challenges identified for the maiden edition were:
Say no to underground crackers: to eliminate use of explosives in mining
The heat energy recycling: how to utilise heat energy wasted in industries
The third wheel of safety: to establish unique safety measures for two wheelers
The intoxication detection: develop a completely automated way to detect alcohol
The hackathon is divided into four zonal events, the second of which were held in Kolkata.
At the zonal finals, the top teams were announced and asked to present their solutions to a panel of jury.
Tata Crucible Hackathon will be held in the following cities respectively, in Kolkata on Oct 7, 2017, in Delhi on Oct 8, 2017 and in Mumbai on Oct 14,, 2017.

The other top solutions for the challenge came from:
Rohit Kumar Singh, Sriram.S, Abhay Shankar & Neelima Kadirisani from Team Technovations of Tata Steel respectively, for challenge - The Heat Energy Recycling: How to utilize heat energy wasted in industries
Ashish Chaudhary, Sakshi Sharma,Aurovinda Mohanty & Pundan Kumar Singh respectively from Team Steel Cyclos of Tata Steel, for challenge - The Third Wheel of Safety: To establish unique safety measures for two wheelers