Pakistani economist doubts China role, stresses on better economic relations with India
Kolkata, June 13 (IBNS): A renowned Pakistani economist has expressed skepticism over the involvement of China in Pakistan's economic, infrastructural and development progress saying his country is facing a growing isolation and its relations with India should improve.
Speaking here recently at the Bengal Chamber, on the need to have a better Indo-Pak relations, Pakistani Political Economist Prof. S. Akbar Zaidi said so far China–Pakistan Economic Corridor (CPEC) is concerned, it is an ambitious project no doubt, but the truth is that not much is really known about it, and there are virtually no documents or information about it.
"But it is a very high profile project for us, and for the last two years exactly, Pakistan has been solely focussed on the CPEC initiative with even XI Jinping making innumerable visits", said Zaidi delivering his speech on Trade and Economic Possibilities and Constraints Between India and Pakistan.
The CPEC corridor connects the province of Xinjiang in China with the Gwadar port in Pakistan through road, rail, optical fibre and pipeline network. Their main target is to access the Persian Gulf and oil and gulf imports are also on the radar.
China has invested a whopping 56$ billion in the project and 60 power plants have been pledged to be built by them for CPEC.
But Zaidi refuses to be buoyed down by the optimism surrounding CPEC and China. "I am very sceptical about China. If you look around at what they've done to the whole world, China is only interested in China. They are not really interested in the host country. Pakistan has put all its eggs and fruits in one basket and that is not a good thing."
He said: "Turkmenistan is particularly a very good example of this. Six-seven years ago China was negotiating with them and they used the same phrase 'fate changer' that they are using for us now. What happened was that the Turkmenistan government incurred a number of losses and debts to the Chinese government as a result of which they had to give a portion of their land to China in lieu for the losses incurred.
"Even Sri Lanka is facing a similar problem with repaying the loans for the golf courses, flyovers, airports that are being built. There is further proof of this fact because there are 750 Chinese companies operating out of Islamabad and 650 Pakistani companies with at least one Chinese director in it. In fact, I think there is a problem with how most countries deal with China, which is anyway huge.
"I think the only country to be able to stand up to China so far is India. The way India negotiates with China is very different from the way Sri Lanka, Bangladesh, Pakistan negotiate with them," he said.
"As far as India-Pakistan relations are concerned, now Pakistan may not want to have anything to do with India because they feel they have China. But often, I personally feel that third party initiatives and non-interference can actually help improve relations between two countries and China's involvement with Pakistan may actually put pressure to resolve issues between India and Pakistan. "
But as far as trade between the two countries is concerned, Zaidi does not have much hope.
"I don't particularly see it improving in the next five years. The potential is about 10 billion but we are stuck at about 2 billion roughly, and I don't see it doubling in the next few years," he said.
"Some of the problems that are faced by Pakistan include the fact that our exports which are mostly cotton based (garments, textiles etc) at about 65-67 % have declined, while imports have risen marginally. A lot of this is also attributed to the fact that Pakistan has seen a large boom in the middle class, which roughly accounts for 84-85 million of the total approximately 200 million population.
"Add to this the almost negligible foreign investment by various countries because of the fear of terrorism; there are not even direct American or European flights to the country. Perhaps this is why Pakistan is so desperate for foreign investment and is so keen on a partnership with China," he said.
"In the last few years, even the U.S has withdrawn from Pakistan and Pakistan has gained a certain level of autonomy from the USA. In fact, there are more students (around 10,000) studying medicine, science in China, where they don't even know the language. China and Turkey are among the few countries to invest in us. Pakistan is no stranger to power shortages either, 2% of the GDP has decreased simply because of power cuts and unpredictability", said the economist who holds a PhD from Cambridge University.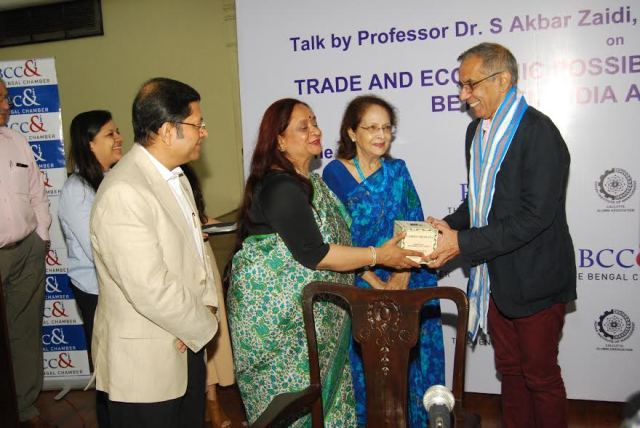 On the other hand, Zaidi felt that Pakistan's civil and political institutions are getting stronger.
"While India has been used to a democracy since 1952, we have been getting used to it since 2013," said Zaidi. "There is a greater discourse on democracy now, and though many shy away from openly criticising the military, I can safely say that the civil and democratic institutions, the Supreme Court, the judiciary, the media have been making greater inroads in advocating for democracy. It is slow and there is definitely a long way to go."
(Reporting by Tanushree Sen)