India looking at professional & educational tie-ups in UAE: Goyal
Mumbai/UNI: Union Minister for Commerce and Industry Piyush Goyal on Saturday said that India is looking at entering into partnership agreements with professional bodies and educational institutions in the UAE, which is facing a shortage of skilled manpower.
India and the UAE have already entered into a Comprehensive Economic Partnership Agreement which aims at increasing the bilateral trade between the countries to USD 100 billion in the next five years.
"UAE has a high dependence on skilled manpower coming from outside. They are looking at IT professionals, engineers and architects. We are looking at gradually going in for mutual recognition of professional bodies," Goyal said at a press conference,
Stating that the Chartered Accountants' institutions in India are entering into an agreement with the Chartered Accountants' body in the UAE, he said, "they will work through mutual recognition. We will look at similar mutual recognition of such professional bodies for different professions as well. We will also be looking at similar agreements and partnerships with educational institutions in India and UAE."
He further said that UAE has also shown a lot of interest to engage with the Indian Institute of Technology (IIT) to set up an institute there.
"We are looking at better educational facilities and access to world class universities coming in through more investments in each other's countries and also investments in ed-tech and fin-tech space. I believe there is a huge potential. We have also had discussions on student exchange programmes between India and UAE which will lead to greater opportunities for Indians including Indian teachers in the UAE," Goyal added.
The minister further said that while the estimate is that the agreement will create a minimum 10 lakh jobs for Indian citizens, there are a number of indirect jobs that will also be generated.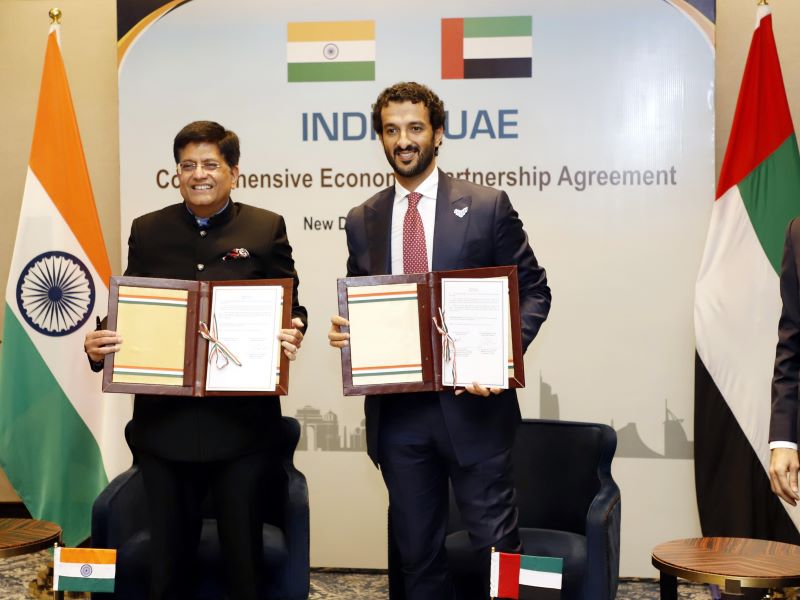 "The partnership agreement will open doors especially to labour-intensive Indian products which are exported to UAE - such as textiles, gem & jewellery, medicines, agricultural products, footwear, leather, sports goods, engineering goods, auto components and plastics. CEPA is a balanced, fair, comprehensive and equitable partnership agreement, which will give enhanced market access for India in both goods and services. It will create jobs for our youth, open new markets for our startups, make our businesses more competitive and boost our economy," he said.
Goyal further said that under the pact, UAE has offered immediate market access at zero duty from day one of the entry into force of the agreement, to products accounting for 90 per cent of India's exports to UAE in value terms.
"Around 90 per cent of products exported from India to UAE will attract zero duty with implementation of the agreement. Around 80 per cent lines of trade will attract zero duty, and the remaining 20 per cent lines do not affect our exports much, so this is a win-win agreement," he added.
The minister further said that the CEPA will not only improve competitiveness of Indian products, but also provide strategic advantages to India.
"Since UAE functions as a trading hub, the agreement will help provide us market entry points to Africa, Middle East and Europe" Goyal added.
Replying to a query on the potential investments by the UAE in India, Goyal said, "While CEPA deals with trade, for investments, we already have a high level task force which I lead. We had a meeting of the task force in October last year, and they have reiterated their commitment to invest USD 75 billion in India.
"Unfortunately due to Covid, the plans got slightly delayed but they are extremely keen to look at deepening the engagement on investments in India. That is a separate track that we are working on, and it's a successful track."
He further said that the UAE has expressed their desire to look at large infra projects, to invest in renewable energy and sustainability, and are also looking at investments in partnership with the NIIF.
"I can assure that going forward the investment flow from UAE will see a significant boost. Very often when trade grows it also leads to investments in the corresponding country," Goyal said.
He noted that the potential for trade between the two nations is even bigger, and the target of USD 100 billion will be surpassed.
Highlighting the benefits to various sectors, Goyal said, "The CEPA brings the two nations closer, will open many new opportunities for Indians to work in UAE, including in fintech, edtech, green tech, automation and Artificial Intelligence. Technology, digital trade and sustainability have a big focus in the partnership."
He further said that for the first time in a trade agreement, the CEPA provides for automatic registration and marketing authorisation of Indian generic medicines in 90 days, once they are approved in developed countries.
"This will give big market access to Indian medicines not only in the UAE, but also in the Middle East and Africa," Goyal informed.
The minister also said that the CEPA provides for a permanent bilateral safeguard mechanism to deal with sudden surge in imports of any product. It also has stringent 'rules of origin' reflecting requirements for substantial processing of up to 40 per cent value addition.
"An MoU among APEDA, DP World and Al Dahra on the UAE side regarding "Food Security Corridor Initiative" has been prepared, under which India will be able to play an important role in food security of UAE," he added