IIT Kgp Leadership Summit
Leadership Summit 2020 organised by the Alumni Cell of IIT-K will be held on virtual platform
Kharagpur (WB)/IBNS: The Students' Alumni Cell of Indian Institute of Technology (IIT), Kharagpur, is ready to host the fourth edition of the Leadership Summit 2020 in December this year, by moving it to the virtual platform.
The Leadership Summit, organized as a series of Guest Lectures, invites IIT's eminent alumni who are now top-notch professionals and corporate magnets.
They in turn guide students to learn out how to develop confidence, persevere in their work environment, and assume a leadership role in their professional and personal lives.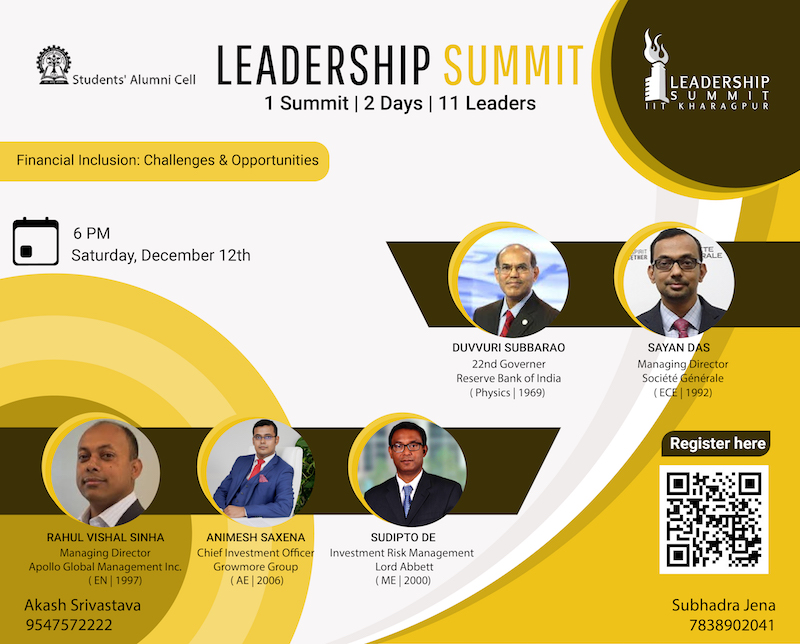 The past three Summits saw the likes of Anjan Rai Chaudhuri (Management Consultant/Visiting Professor at IIM Calcutta), Arunabh Kumar (founder of The Viral Fever), and Prasad Menon (former Managing Director of Tata Chemicals) as key speakers.

The 2020 virtual event will be hosted over two days, December 12 and December 19.
Since finance is a key component in our everyday life and in business, a good understanding of the subject is a must for students who are going to step into the corporate world.

Therefore, the theme for the December 12 session is 'Financial Inclusion: Challenges and Opportunities'.

Today, nation building stands on two pillars – one, digitization and technology, and two, the Make in India spirit.

Therefore, the theme for the session on December 19 is 'Innovation, Digitalization and Entrepreneurship'.

Both sessions will commence at 6 pm.
FOR MORE INFORMATION:
https://www.facebook.com/iitkgp.alumnicell
REGISTRATION: