AGM, GRSE
Shipbuilders GRSE confident about their order book, revenue from operations up from previous year
Kolkata/IBNS: Garden Reach Shipbuilders & Engineers Limited (GRSE) reported that its performance in 2019-20 improved over the previous year, with revenue from operations up 3.38 per cent to Rs.1,433.30 crore compared to Rs.1386.42 crore in the previous year.
The company reported that EBITDA was up 20.90 per cent to Rs. 255.30 crore compared to Rs. 211.16 crore in the previous year.
The company reported that PAT was up 48.70 per cent to Rs.163.48 crore compared to Rs.109.94 crore reported in the previous year.
EPS stood at Rs.14.27 compared to Rs. 9.60 in the previous year.
Placing the financial numbers at the company's 104th Annual General Meeting (AGM), it said that its order book position as on March 31, 2020 stood at Rs. 26,544 crore with shipbuilding projects related Order Book Value of Rs. 26,281 crore.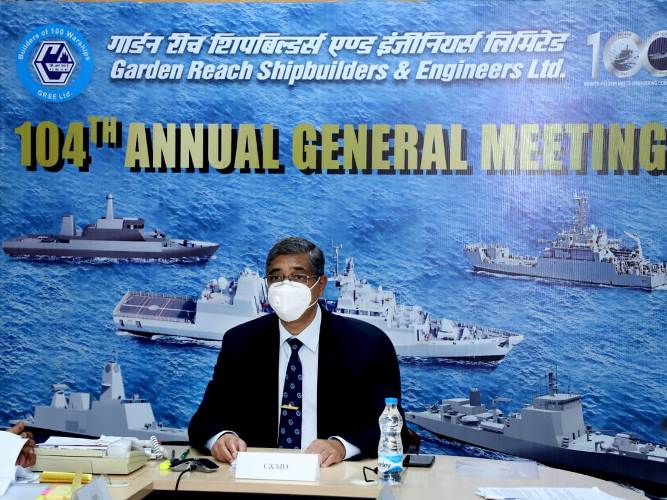 During the reported period, the company delivered four warships, two for the Indian Navy and two for the Indian Coast Guard – thus delivering a total of 104 warships till March 31, 2020.
On June 9 this year, it delivered the 105th warship, FPV, ICGS Kanaklata Barua, to the Indian Coast Guard, thus being the only shipyard in the country to have delivered 105 warships.
To augment its shipbuilding capacity and for infrastructure modernization, GRSE has taken several strategic steps, including implementing a state of the art underwater CNC Plasma Cutting Machine and a new Hull Block Fabrication Facility at its RBD Unit.
The company said that it has aided the armed forces at home and abroad with a range of prefabricated steel bridges installed at high altitudes and for disaster relief, including the launch of a first of its kind Assault Bridge in August this year.
Rear Admiral V K Saxena, IN (Retd.), Chairman & Managing Director, expressed his confidence in team GRSE to emerge strong amidst the uncertainties created by the global pandemic.
It was highlighted in the meeting that GRSE was poised for workload consolidation across Design, Production & Supply Chain Management through new initiatives, including implementation of Industry 4.0 robotics, AI, machine learning, etc.